UNTHICKENED SOUPS - Прозрачные супы
---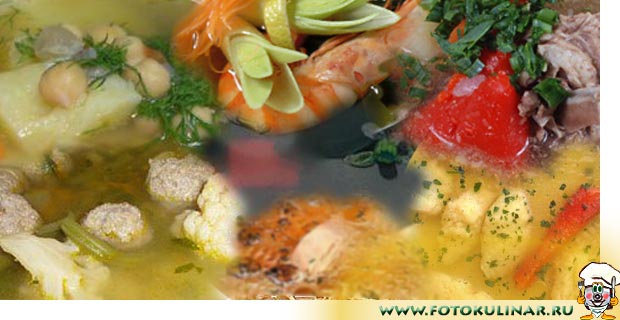 UNTHICKENED SOUPS
Soups suitable for serving as the first course of a meal with a substantial main course are found in this group. Any of the variations of soup stock or consomme may be used for this purpose. The following recipes give directions for other soups of this variety.
CHICKEN OR TURKEY BONE SOUP
Never discard the bones of turkey or chicken as they always will make a delicious soup. Scrape the meat from the bones, break the bones, pack in a kettle, and cover with cold water, adding a small onion. Cover closely and simmer very gently for three hours. Strain and cool. One-half hour before it is to be served, return to the fire and for every quart of stock add one cup of the cold meat, season and keep hot till needed. This soup may be greatly improved by adding to it, three minutes before serving, ten oysters to each quart of soup.
CLAM BROTH
12 clams in the shell
2 cups water
Paprika
Purchase large clams in the shells. Scrub them thoroughly with a brush, place them in a kettle with cold water, closely covered, and bring water to the boiling-point. As soon as the shells have opened, remove them from the broth. The clams may be served at once, in the half-shell, or taken from the shells and kept to be served in any form desired. Let the broth settle, strain, being careful not to pour out the sandy sediment, reheat, add a little red pepper or paprika, and serve hot. Twelve good-sized clams should make enough broth for six persons, but if there does not seem to be sufficient, add a little boiling water or milk. Clam broth seldom needs added salt. Water wafers heated in the oven, or divided crackers toasted on their broken surfaces, buttered and heated for a few minutes in the oven, are generally served with this broth.
Clam broth may be served, hot or cold, in cups with a heaping teaspoon of whipped cream, into which has been beaten a little salt and pepper placed upon the top of each cup. The cream adds richness to the flavor of the soup and increases its nourishing properties.
CLEAR TOMATO SOUP
1 quart brown soup stock
4 tablespoons butter
1 can tomatoes
2 sprigs parsley
1/2 teaspoon peppercorns
l/4 cup each, onion, carrot, celery, raw ham, cut in dice
1 small bay-leaf
3 cloves
3 sprigs thyme
Salt
Pepper
Cook onion, carrot, celery, and ham in butter five minutes. Add tomatoes, peppercorns, bay-leaf, cloves, thyme and parsley, cover and cook slowly one hour. Strain carefully, add hot stock, and season with salt and pepper.
This recipe may be used for jellied soup or for salad.
JELLIED SOUP
1 quart clear brown, or white stock, or tomato or chicken soup
2 tablespoons gelatin
l/2 cup cold water
Soften the gelatin in the cold water, add to the boiling hot soup, chill and serve in cups. The trays of the mechanical refrigerator are excellent for chilling soups.