SPINACH - Шпинат
---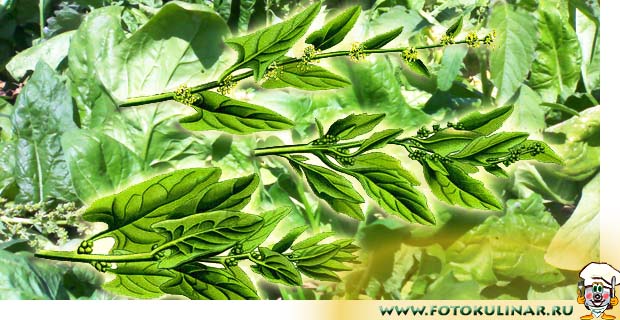 SPINACH WITH CHEESE
1 quart spinach
4 eggs
2 tablespoons chopped parsley
2 cups milk
4 tablespoons fat
1 cup Swiss cheese
l /2 teaspoon paprika
1 teaspoon salt
Wash and chop the spinach. Add the parsley and cook in the fat for ten minutes. Add well-beaten eggs to the milk, and pour over the spinach. Add cheese and seasoning; turn into greased baking-dish and bake in a moderate oven (350- 400 F.) one-half hour.
SPINACH A LA REINE
l /2 tablespoon chopped onion
Salt and pepper
l /2 tablespoon fat
3 l /2 tablespoons grated cheese
1 quart spinach
3 eggs
1 tablespoon flour
6 cooked shrimps
1 cup milk
Cook the onion in the fat, add the spinach, which has been washed and chopped, and fry quickly. Add flour and milk, and cook until it thickens. Season with salt and pepper and add the grated cheese. When it starts to boil remove from the fire and add well-beaten egg-whites, then the beaten yolks, turn into a baking-dish and bake in a very hot oven (450- 500 F.) for ten minutes. Garnish with the shrimps.
SPINACH SALAD
1 pint spinach
2 hard-cooked eggs
French dressing
Wash spinach carefully. Select only thick, tender leaves (save others and stems for cooking). If too large, tear to size. Shake off excess water. Chop whites and yolks of eggs separately and turn into bowl with leaves. Moisten with tart French dressing. Add any mild-flavored vegetable.
Torta Di Spinaci
10 oz. spinach, blanched 1 minute, drained, dried and chopped
2 cups all purpose flour, extra for kneading dough
1/2 cup unsalted butter(4 oz.)
1 egg yoke plus 3 whole eggs, beaten
3 tbs milk
1/4 cup golden raisins, soak 30 minutes in water, drain
3/4 cup heavy cream
1/2 cup grated Parmesan cheese
salt and ground pepper
2 1/2 tbs (1 oz.) Pine nuts
To make dough by hand: Pour flour into a bowl, add salt and the butter. Using fingertips, work the butter into flour until a crumbly dough forms. Add the egg yoke and milk, incorporate, and knead dough into a ball. Wrap in plastic wrap and refrigerate for 1 hour.
Food processor dough: Combine flour and salt in the work bowl and using metal blades process briefly to mix. Add butter and process until the ingredients resemble course meal. Next add egg yoke and milk and process until dough forms a ball around the blades. Remove dough, shape to ball, wrap in plastic wrap and refrigerate for 1 hour.
Pre-heat oven to 350 degrees. Using 1 tbs. butter, grease a 9 inch tart pan with a removable bottom and then dust with flour. Using a lightly floured board, roll out the dough into a round shape, making it 1 inch larger than the diameter of the pan. Line the prepared pan with the pastry dough and trim.
In a bowl, combine the blanched, chopped spinach, raisins, whole eggs, cream and Parmesan cheese. Mix well and season with salt and pepper to taste. Pour into the pastry-lined tart pan and top with the pine nuts. Bake in oven until it is golden, about 40 minutes. Remove, let cool slightly and then transfer to a serving dish. Serve Torta luke warm or cool.