Последние темы
A
B
C
D
E
F
G
H
K
L
M
N
O
P
Q
R
S
T
U
V
W
Y
RABBITS, HARES AND SQUIRRELS - Кролики, зайцы и белки
---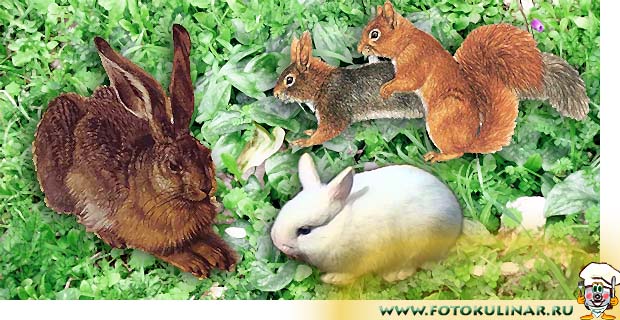 Choose rabbits with soft ears and paws stiffness is a sign of age. Also, be sure that they are fresh and free from any unpleasant odor. Neither hares nor rabbits should be drawn before hanging, as they may become musty. In Winter, select a dry place for hanging, and they may remain for some time.
Dressing and Trussing
To skin and dress a rabbit, hare or squirrel, cut off the fore feet at the first joint, cut the skin around the first joint of the hind leg, loosen it and then with a sharp knife slit the skin on the under side of the leg at the tail. Loosen the skin and turn it back until it is removed from the hind legs. Tie the hind legs together and hang the rabbit to a hook by this fastening. Draw the skin over the head, slipping out the fore legs when they are reached. Cut off the head and thus remove the entire skin. Wipe with a damp cloth. Remove the entrails, saving heart and liver, and wipe carefully inside. If it requires washing inside, use water acidified with vinegar.
Before cooking, soak in tepid water for a time. If blood has settled in any part, cut with the point of a knife where it is black and soak in warm water; this will draw out the blood.
Skewer firmly between the shoulders, draw the legs close to the body and fasten with skewers.
ROAST HARE OR RABBIT
Hare or rabbit
Salt and pepper
Forcemeat or stuffing
Beef-drippings or other fat
Wipe the hare or rabbit dry, fill it with good forcemeat or stuffing, sew up and firmly truss it. Season well with salt and pepper and roast. Baste well with beef-drippings, butter or other fat. A thin piece of beef-suet skin may be tied over the back for the first three-quarters of an hour and then removed. One and three-quarters hours is the full time for roasting a medium-sized hare at 500 F. for the first fifteen minutes and 350 F. for the rest of the time. Serve with brown gravy and currant jelly.
BROILED HARE OR RABBIT
Hare or rabbit
Butter
Salt and pepper
Skin and clean the rabbit or hare, wipe dry, split down the back, and pound flat; then wrap in oiled paper. Any tough white paper may be oiled. Place on a greased gridiron and broil over a clear, brisk fire, turning often. Remove the paper and serve on a hot platter, seasoned with plenty of salt, pepper and butter, turning over and over so it will take up the fat. The oiled paper is not essential but results in a juicier product.
FRIED HARE OR RABBIT
Hare or rabbit
Flour
Egg Milk or cream
Bread-crumbs
Salt and pepper
Dress as directed and put into boiling water. Boil ten minutes and drain. When cold, cut into joints, dip into beaten egg, then in bread-crumbs and season with salt and pepper. Saute in any good fat over a moderate fire. Thicken the gravy with the flour and pour in milk or cream, boil up once and pour over the rabbit. Garnish with sliced lemon.
HARE OR RABBIT SALMI
1 hare or rabbit
2 cups water
1 slice onion
1 teaspoon salt
1 stalk celery
1 tablespoon Worcestershire sauce
1 bay-leaf
2 tablespoons oil
1 tablespoon capers
2 tablespoons fat
12 stoned olives
2 tablespoons flour
Chopped parsley
Clean and dress as directed and place in a baking-pan. Add onion, celery cut fine, and bay-leaf, brush with oil, then bake at 450 F. for thirty minutes. Lift the meat from the pan, add the fat and the flour and stir until a rich brown. Add hot water, stir well, and when smooth, add salt, Worcestershire sauce, capers and olives. Lay the meat again in the pan, cover closely and bake at 350 F. for thirty minutes. Dish the game, strain the sauce over the meat, arrange the olives as a garnish, sprinkle the whole with finely chopped parsley and serve.
HARE OR RABBIT PIE
Dress as directed and divide into pieces suitable for serving, cutting the back into three parts. Immerse in salted water for one-half hour, wipe dry, and then rub with lemon- juice, salt and pepper. If the rabbit is very plump, gash the thickest part several times, allowing the seasoning to penetrate. Simmer until tender, carefully keeping hare or rabbit covered with water. When it is done, thicken the liquid with the browned flour and let the gravy come to a boil. Add the fat, remove from the fire and cool.
Put the paste around the sides of a greased pudding-dish, lay in the pieces, then some potatoes, and repeat until the dish is full. Pour in the gravy, put on the top crust, slashed in the center, and bake in a hot oven (450 F. to 425 F.) for thirty-five to forty-five minutes until done.
HARE OR RABBIT EN CASSEROLE
Hare or rabbit
1 teaspoon salt
3 tablespoons fat
1/8 teaspoon pepper
4 tablespoons flour
Garlic, if liked
Rub the frying-pan with garlic, if it is not objectionable. Dress and cut up the rabbit and cook in the fat in a frying-pan until brown. Remove the meat from the pan, stir the flour into the fat, add two cups hot water, salt and pepper, and let it come to a boil, stirring it constantly. Place the meat in a baking-dish, pour the gravy over it, cover closely and bake in the oven or fireless cooker (350 F.) until tender.
If the garlic is not used, a teaspoon of currant jelly may be added to the gravy before serving.
ROAST SQUIRRELS
Squirrels
Pepper and salt
Salad oil
Onion-juice
Lemon-juice or tarragon vinegar
Oil
Brown stock
1 cup bread-crumbs
Worcestershire sauce
Cream Paprika
1 cup button mushrooms
Clean the squirrels thoroughly, wash in several waters and cover with salad oil mixed with lemon-juice or tarragon vinegar. Let stand for an hour on a platter. Soak a cup of bread- crumbs in just enough cream to moisten them, add a cup of but- ton mushrooms cut in dice, pepper, salt and onion-juice. Stuff each squirrel with this mixture, sew and truss as you would a fowl. Rub with oil, place in a dripping-dish, and partly cover with brown stock diluted with a cup of boiling water. When the squirrels are well roasted, make a gravy out of the liquor in the pan, by adding a teaspoon of Worcestershire sauce, and paprika, salt and lemon-juice to taste.
BRUNSWICK STEW
2 squirrels
6 potatoes
1 tablespoon salt
1 teaspoon pepper
1 minced onion
2 teaspoons sugar
1 pint Lima beans
1 quart sliced tomatoes
6 ears corn
1/2 pound butter
l /2 pound salt pork
This dish is named for a county in Virginia and is a favorite dish in that section of the country. It is served in soup-plates.
Cut the squirrels in pieces, as for fricassee. Add the salt to four quarts of water and when boiling add the onion, beans, corn, pork, potato, pepper and the squirrels. Cover closely and simmer for two hours, then add the sugar and tomato, and simmer one hour more. Ten minutes before removing the stew from the fire, add the butter, cut into pieces the size of a walnut and rolled in flour. Boil up, adding salt and pepper if needed, and turn into a tureen.
Rabbit Pie
Cut a rabbit into seven pieces, soak in salted water one-half hour and stew until half done in enough water to cover it. Lay slices of pork in the bottom of a pie dish and upon these a layer of rabbit. Then follow slices of hard-boiled egg, peppered and buttered. Continue until the dish is full, the top layer being bacon. Pour in the water in which the rabbit was stewed, and adding a little Sperry flour, cover with puff paste, cut a slit in the middle and bake one hour, laying paper over the top should it brown too fast.