ONION - Лук
---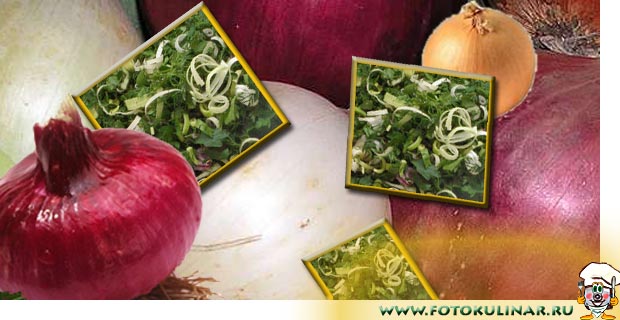 ONION SANDWICHES
Pour salted water over thin slices of onion (or chopped onion) and let it stand for a time to extract the very strong flavor. Then drain the onion and use between buttered slices of bread, seasoning with pepper, salt, and a little mustard if desired.

Did you know?
Onions have long been regarded as a cure for many ailments. There is evidence that they reduce cholesterol and help to clear heavy colds.


ONION SOUP GRATINEE
3 onions
Pepper and salt
3 tablespoons butter
1/2 clove garlic (if desired)
3 pints beef stock
2 tablespoons chopped parsley
3 tablespoons grated cheese
8 slices French bread
½ cup Parmesan cheese
Slice onions and put them into a stew-pan with butter. Stir and fry slowly until softened and slightly browned. Add beef stock, boil ten minutes, skim, season, and add parsley and garlic. Cut the bread into thin slices, dry in the oven a few minutes, pour soup into a low earthen casserole, put bread on top, sprinkle with grated cheese, and set in a very hot oven (450 -500 F.) just long enough to brown the cheese.

ONION STEW OR DUTCH BROTH
6 onions
3 tablespoons flour
5 tablespoons butter
2 cups scalded milk
3 cups cold water
Salt and cayenne
1 egg-yolk
Chop the onions and cook them in two tablespoons of the butter for five minutes, then add water and cook thirty minutes. Press through a sieve. Make a roux of the remaining butter and the flour, combine it with the scalded milk and add seasoning. Cook five minutes, stirring constantly. Add this milk mixture to the onion mixture. Mix thoroughly and add the gg-yolk, slightly beaten. Serve individually in Dutch bowls and place one teaspoon of grated Edam cheese on the top. Set for a few minutes in a hot oven to melt the cheese.

CREAM OF ONION AND POTATO SOUP
3 cups scalded milk
4 medium potatoes
1 cup potato water
4 onions
2 tablespoons flour
1 tablespoon chopped parsley
2 tablespoons butter
Salt and pepper
Boil the potatoes and onions together, until tender. Drain. Save the water and rub the vegetables through a coarse strainer.
Make a white sauce of the liquid, flour, and fat and combine with the potato and onion pulp. Season with chopped parsley, salt and pepper. Beat with an egg-beater and serve with croutons.

PUREE OF ONION
3 large or 6 small onions
2 or 3 tablespoons butter or other fat
2 cups white stock
2 cups milk
Salt and pepper
2 or 3 tablespoons flour
1 tablespoon chopped parsley
Make a white sauce with stock, milk, flour, and butter. Cook onions in water until very tender. Drain, and rub through a sieve. Combine onion and sauce. Season with salt, pepper, and chopped parsley. Beat with egg-beater and serve.
Use three tablespoons flour when increased thickness is desired.

Sage and onion stuffing

6 oz. finely grated raw onion
2 oz. breadcrumbs
½ teaspoonful salt
½ teaspoonful pepper
1 oz. margarine
2 teaspoonfuls sage (finely chopped)
Beaten egg

Mix ingredients together, using egg to bind.
(Source: The Tricity Cookery Book)

Cook's tip: To reduce tears when peeling or slicing onions, chill them for 30 minutes first or cut off the top, but leave the root on. The root contains the largest amount of sulphuric compounds, which cause tears when the onion is cut. Remove the root prior to cooking or eating.