GRAPEFRUIT - Грейпфрут
---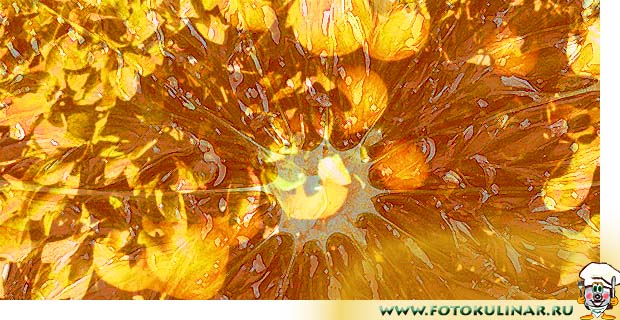 GRAPEFRUIT COCKTAILS
No. 1 GRAPEFRUIT ON THE HALF SHELL.
Cut grapefruit in half, crosswise. With a pair of sharp shears or with a grapefruit corer, cut a circular piece from the center of each half, being careful not to cut through the skin. Then with a sharp knife loosen each section from the membrane and skin. Sprinkle with sugar and set in the refrigerator to chill. Pink the edges of the skin if you prefer, and remove the pieces of membrane between the sections of fruit if you have time. In this way the shell is left with only edible portions of the fruit. In any case each mouthful of fruit should be entirely detached from the shell. Serve a half grapefruit on a plate or in a special grapefruit glass, embedded in ice.
No. 2 GRAPEFRUIT AND ORANGE COCKTAIL.
1 cup diced grapefruit pulp
Sugar
1 cup diced orange pulp
Lemon-juice or grape-juice
Maraschino cherries or preserved pineapple
Mix the orange and grapefruit pulp. Sprinkle with sugar and a little lemon-juice or grape-juice. Chill, and have glasses chilled so that the whole, when served, may be very cold. At the last moment fill the glasses with the fruit mixture, garnishing with cherries or preserved pineapple.
No. 3 GRAPEFRUIT AND STRAWBERRY COCKTAIL.
3 grapefruit
1 pint strawberries
Sugar
Cut the grapefruit in half and carefully remove the pulp, leaving the inner white skin as lining. Place the shells in cold water to keep them firm. Mix the grapefruit pulp with the strawberries and sprinkle with sugar. Chill. At serving time, fill the shells with the mixture placing large handsome berries on top as garnish. The mixed fruit left over may be served at breakfast or used as a sauce for pudding or ice-cream.
GRAPEFRUIT SALAD
Peel grapefruit and free the sections from all membrane and seeds. Cut sections in half, crosswise; lay on bed of lettuce leaves and serve with French dressing. Sprinkle with tarragon leaves or with mint if desired.
GRAPEFRUIT AND GRAPE SALAD
2 cups grapefruit sections
l /2 cup Malaga grapes, peeled and seeded
2 tablespoons grape- juice
2 tablespoons French dressing
Peel fine large grapefruit and separate the sections, removing every particle of the bitter white inner skin. Peel and seed the grapes and mix with the grapefruit. Set, covered, in the refrigerator until very cold. Pour over them the grape- juice and French dressing.