CHICKEN SANDWICHES - Бутерброды с цыпленком
---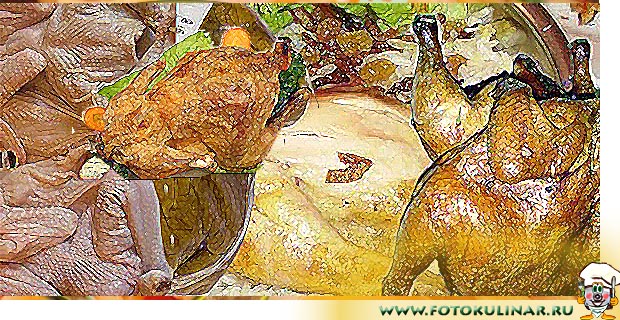 CHICKEN SANDWICHES
No. 1
1 cup cooked chicken meat, white or dark
l/4 cup mayonnaise
Chop the chicken meat very fine, mix with the mayonnaise, and spread thin slices of bread, buttered or unbuttered, with the paste.
No. 2
2 egg-yolks
1 cup minced, cooked chicken
1 teaspoon melted butter
Salt
Pepper
1 teaspoon lemon-juice
1 teaspoon stock
Cook the eggs thirty to forty-five minutes, in water just below boiling-point, take out the yolks, and mash as fine as possible. Add to these the melted butter and lemon-juice, the minced chicken, salt, pepper and stock. Mix all well together. A paste will be the result and with this very delicate sandwiches may be made.
No. 3
1 cup cooked white meat of chicken
6 tablespoons thick cream
l/2 teaspoon salt
1 tablespoon gelatin
Dash of paprika
1 tablespoon cold water
Chop the chicken very fine and pound to a paste, adding salt and a dash of red pepper. Soak the gelatin in the cold water for fifteen minutes, and add the thick cream. Dissolve the gelatin over boiling water, beat it slowly into the chicken and add salt and paprika. Set aside to cool, smoothing into an even mass. When cool, divide into squares, cut these squares into very thin slices and arrange on thin buttered slices of bread. Cut into fancy shapes, removing the crusts.
No. 4
3/4 cup cooked chicken meat
1/4 cup chopped almonds
l/4 cup chopped stuffed olives
1/4 cup mayonnaise
Cut the chicken meat into small bits and add the almonds and olives. Moisten with mayonnaise and spread on thin, buttered slices of bread.
CHICKEN, HAM AND CELERY SANDWICHES
1 cup cooked chicken meat
½ cup mayonnaise
1/2 cup celery
l/4 cup cooked ham
1 tablespoon green pepper
Mince the chicken, ham, celery and green peppers. Mix with the mayonnaise and spread on buttered bread.
CHICKEN AND DILL PICKLE SANDWICHES
Between buttered slices of white bread, use thin slices of white meat of roasted chicken and thin slices of dill pickle. Cut into triangles and serve on lettuce leaves.
CHICKEN LIVER SANDWICHES
1 cup cooked chicken livers
1 tablespoon lemon-juice
2 tablespoons chopped crisp bacon
2 tablespoons sliced truffles
4 drops tabasco sauce
Salt
Pepper
2 stalks celery, minced
Mash the chicken livers, add the chopped bacon, salt, pepper, tabasco sauce, lemon-juice and sliced truffles. Use between slices of bread spread with creamed butter mixed with minced celery.
CHICKEN AND TONGUE SANDWICHES
1 pint minced cold boiled chicken and tongue, mixed
Black pepper
1 teaspoon Worcestershire sauce
l /2 cup melted butter
1 egg-yolk
To cold boiled tongue and chicken add the melted butter, the yolk of the egg, beaten, a little black pepper, and the Worcestershire sauce. Spread this over buttered bread.
CHICKEN CLUB SANDWICHES
(For each sandwich)
3 slices toast
Crisped bacon
Mayonnaise
Tomato slices or onion slices
1/8 to l/4 breast of chicken
Lettuce
Pickle or olives
For each sandwich remove the crust from three slices of toasted bread, buttered while hot. Spread the under slice with a thin layer of mayonnaise dressing. On this lay two small white lettuce leaves, allowing them to project beyond the edge of the toast. On the lettuce lay thin slices of breast of chicken spread with mayonnaise. Cover with a slice of toast, spread with mayonnaise and cover with slices of crisp bacon. A slice of tomato or onion may be placed over the bacon. Place the third slice of toast on this and garnish with pickles or olives. Serve while the toast and bacon are hot.