CHEESE SANDWICHES - Бутерброды с сыром
---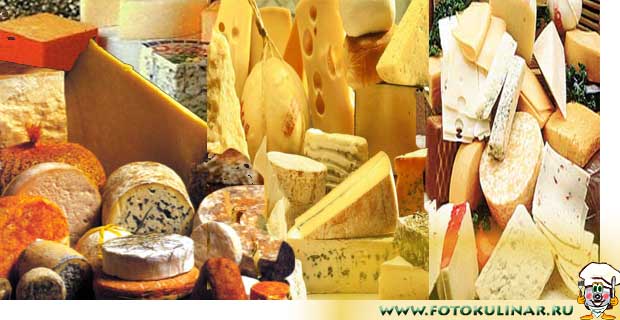 CHEESE SANDWICHES
No. 1
Place thin slices of American, Swiss or any preferred mild or snappy cheese between two slices of buttered bread. Add a dash of mustard if desired.
No. 2
Grate sapsago and Parmesan cheese and sprinkle thickly over a slice of buttered bread. Then dust with a mild red pepper and add another slice of buttered bread.
No. 3
Yolks of 3, hard-cooked eggs
Paprika
Salt
2 tablespoons salad oil
1 tablespoon vinegar
Mustard
1 cup grated cheese
Rub smooth the yolks of the hard-cooked eggs. Add the oil, stirring it in very slowly with a fork, and mix thoroughly with a little mustard, paprika, salt and the vinegar. Add the grated cheese and use between thin buttered slices of white or brown bread.
No. 4
l/2 pound American full cream
1/4 cup cream cheese, grated
l/2 teaspoon dry mustard
2 tablespoons melted butter
Paprika
Salt
Mix all the ingredients thoroughly and use between thin buttered slices of bread. This filling will keep indefinitely in closed jars in the refrigerator.
COTTAGE CHEESE SANDWICHES
1 1/4 cups cottage cheese
l/2 teaspoon salt
2 tablespoons butter
2 tablespoons thick cream
Cut slices of brown bread one-half inch thick, not removing the crusts. Rub the cheese to a smooth paste, and add slowly, beating all the while, the melted butter, the salt and the thick cream. Spread each slice of bread thickly with this mixture. Cover with a very thin slice of white bread and on top of this put a thin layer of the cheese mixture. Cover with a slice of brown bread and trim into shape.
CHEESE AND ANCHOVY SANDWICHES
1 cup cream cheese or ¼ cup anchovy paste
10 tablespoons grated Parmesan cheese
Pinch of mustard (may be omitted)
Mix the anchovy paste with the cheese and add mustard if desired. Spread between slices of buttered bread or toast.
CHEESE AND BANANA SANDWICHES
No. 1
1 cup cream cheese
2 bananas
l/4 cup cream
1/4 cup mayonnaise
Place ice-cold bananas, sliced and covered with mayonnaise, between buttered slices of white bread spread with cream cheese softened with the cream.
No. 2
Make a pulp of the bananas and mix with the softened cheese.
HARLEQUIN SANDWICHES WITH CHEESE FILLING
Cut half-inch slices of both brown and white bread. Spread each slice with butter and cream cheese and place four slices together, alternating the brown bread with the white. Press together and slice through the four layers, cutting them into as thin slices as possible without allowing the slices to break. When neatly done, the effect of the alternate layers of dark and light is very good.
CHEESE AND ORANGE MARMALADE SANDWICHES
l/2 cup cream cheese
l/2 cup orange marmalade
1/4 cup cream
Spread half the slices of buttered bread with the cheese, softened with the cream, and seasoned with salt if desired, and spread the other slices with orange marmalade. Press the slices together.
CHEESE COMBINATION SANDWICHES
1 cup cream cheese or cottage cheese
1/4 cup chopped olives or l / 4 cup chopped nuts or l / 4 cup mayonnaise or l/4 cup chopped pimientos
Mix the cheese with the mayonnaise, chopped olives, nuts, or pimientos, and use between very thin slices of brown or rye bread, lightly buttered.
CHEESE AND ONION SANDWICHES
1 cup cream cheese
Lettuce leaves
l/4 cup chopped Bermuda onion
¼ cup mayonnaise
Mix the cheese with the onion. Use with mayonnaise and a crisp lettuce leaf between slices of buttered bread.
ROQUEFORT CHEESE SANDWICHES
l/2 cup Roquefort cheese
2 tablespoons butter
Salad oil
Whole-wheat bread
To the cheese, add creamed butter and enough salad oil to make a paste. Use a thin layer between buttered slices of whole-wheat bread.
CHEESE MAYONNAISE SANDWICHES
2 hard-cooked egg-yolks
l/2 teaspoon pepper
1 tablespoon melted butter
l/2 teaspoon mustard
l/3 pound cheese
1 tablespoon vinegar
l/2 teaspoon salt
Rub the egg-yolks and butter together until they make a smooth paste, then add the grated cheese, salt, pepper and mustard, mixing thoroughly. Stir in the vinegar and spread between buttered slices of bread, crackers or pieces of oat-cake.
RUSSIAN SANDWICHES
l /2 cup cream cheese
1/4 cup chopped pimiento
1/4 cup chopped olives
1/4 cup mayonnaise
Lettuce leaves
Boston brown bread
Spread the cream cheese on thin slices of Boston brown bread. Spread an equal number of buttered slices with chopped olives and pimientos mixed with mayonnaise dressing. Press together in pairs with a crisp lettuce leaf between.
GRILLED CHEESE SANDWICHES
Between two slices of medium thick bread, lay slices of cheese cut about one-eighth inch thick. Place in oven until cheese begins to melt. Then toast on both sides and serve hot. Or mash a soft cheddar cheese with cream. Spread this as a filling and toast the sandwich.
CHEESE AND TOMATO SANDWICHES
6 slices bread
6 slices bacon
6 slices tomato
Grated cheese
Butter the slices of bread. On each slice, place a slice of tomato, cover with grated cheese, and add a slice of bacon. Toast under the flame of a broiler until the bacon is crisp.
HAM OR BACON AND CHEESE SANDWICHES
Butter slices of toasted bread. Cover with a thin slice of boiled ham or bacon, spread with mustard, and cover with a layer of thinly sliced or grated cheese. Place the slices in the oven until the cheese is melted. Garnish with minced parsley and serve at once.
CHEESE STICKS AND ROLLS
Cut bread in long, narrow strips, spread with butter, then with a thick coating of grated cheese. Brown in moderate oven (350 F.). Or cut crust from sliced bread, spread thickly with paste of grated cheese and butter, roll, fasten with toothpick and brown as above.