Последние темы
A
B
C
D
E
F
G
H
K
L
M
N
O
P
Q
R
S
T
U
V
W
Y
VEAL, CALF - Телятина
---
Veal should be at least six weeks old before slaughter. The sale of "bob" veal is prohibited in many states; it is soft and of poor flavor. Prime veal should be a faint pink color with little or no edge of fat. Flecks of fat in the meat should show a pinkish tinge. Milk-fed veal is particularly good.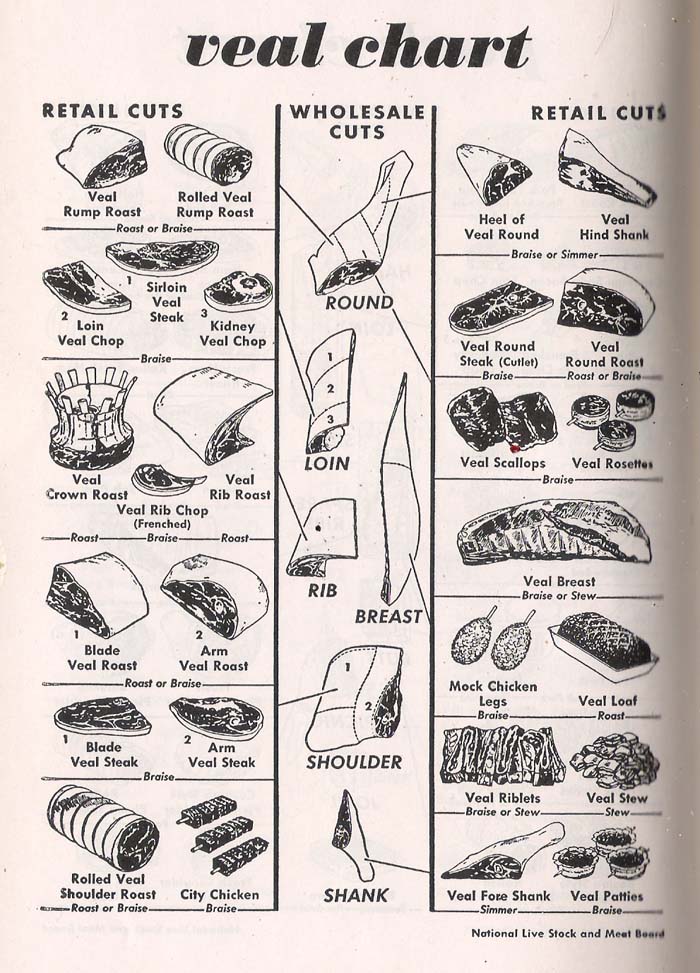 VEAL SANDWICHES
l l /4 cups chopped veal
1 tablespoon lemon-juice
1 teaspoon salt
Mustard
Pepper
Chop the veal, and season with salt, lemon-juice and a little pepper and mustard. Spread mixture between thin buttered slices of bread.
BRAISED VEAL
5 pounds veal
1 tablespoon sliced onion
2 tablespoons butter or other fat
Salt and pepper
4 cups boiling water
The breast, neck, shoulder, ends of ribs or knuckle may be used. Heat the fat and onion in a kettle. Season the veal with salt and pepper, put it into the kettle and sear it on all sides until brown. Pour over it the boiling water and cover tightly.
Set the kettle in a slow oven (350 F.) and bake for two and one-half hours. Serve either hot or cold. If served hot, make a thickened sauce of the liquor in the kettle. When cold, the gravy will form a jelly to serve with the cold meat.
VEAL PIE
2 pounds veal
2 tablespoons fat
Puff paste or other rich paste
1 teaspoon salt
2 tablespoons flour
Pepper
Cut the meat into small pieces and stew until tender. Line a baking-dish with paste. Set a small inverted cup in the middle of the dish. Put in the meat, dredge it with flour, add fat and seasoning, and nearly cover with the stock in which the meat was cooked. Cover with paste. Bake thirty minutes in a quick oven (450 F.). If one-half pound of good salt pork or ham is cut in thin slices and parboiled with the veal, a nice flavor is added and very little, if any, butter need then be used, nor is any other salt necessary. Hard-cooked eggs cut in slices and arranged in layers on the veal and ham are an addition to this dish. When serving, lift the inverted cup and let the gravy flow back into the dish.
VEAL CUTLETS WITH CREAM GRAVY
2 pounds veal cutlets
Drippings
Salt and pepper
1 cup milk or cream
Egg
1 tablespoon flour
Bread or cracker-crumbs
Wipe the cutlets, sprinkle with salt and pepper, dip them first in beaten egg and then in fine bread or cracker-crumbs, and saute in drippings until brown. If preferred, they may be cut into small pieces of similar size and pounded with a rollingpin until little more than a quarter of an inch in thickness and then egged and crumbed and sauted. The cutlets should be thoroughly browned on both sides. Place them on a platter, add cream to the gravy in the pan, and thicken slightly with flour rubbed to a smooth paste with a little cold water. They may be served with slices of bacon.
Veal Stew
1 pound Veal - trimmed of all visible fat and cut into 1 inch cubes.
1 cup baby carrots or 2-3 large carrots - cut into 1 inch pieces
6 to 8 small onions - peeled
2 cloves of garlic - peeled
2 large boiling potatoes - peeled and cut into 1 inch cubes
2 to 3 cups de-fatted chicken or beef stock
1 tablespoon Worcestershire Sauce
Pepper and Herbs - to taste (sage, rosemary, thyme)
2 tablespoons cornstarch mixed with 2 tablespoons cold water
Heat a large, non-stick, pot on high. When hot, sear meat on all sides. Add herbs and seasoning and stir. Add stock and bring to the boil (the chicken stock will be more delicate and let the full flavor come through). Add vegetables and return to the boil. Cover and simmer on very low heat for 45 minutes to an hour or until meat is fork tender and vegetables are tender but not mushy. Turn heat to high and bring stew up to the boil, remove from heat and drizzle in corn starch mixture while stirring constantly. Return to heat and continue to stir until the stew has thickened. Serve immediately.
Menudo
2 1/2 Pound Tripe
1/2 Calf's foot
1/3 Cup Vinegar
Cold water
2 Cloves garlic
1/2 Small Onion
3 Quart Water (approx.)
Salt
1-1/2 Cup Hominy
Red Chile Puree (see below) OR 1 cup canned red chile sauce
Finely chopped green onions
Chopped cilantro leaves
Lemon wedges
Corn tortillas, heated
Red Chile Puree:
8 California chiles (1/4 lb)
2/3 Cup Water
Scrape off any fat from tripe. Cut tripe into 1-inch squares. Place tripe and calf's foot in a large bowl. Add vinegar and cold water to cover generously. Let stand 3 hours. Drain. Rinse tripe and calf's foot thoroughly. Place in a large pot. Add garlic and onion. Pour in water to cover ingredients plus 1 to 1 1/2 inches, about 3 quarts. Add salt to taste. Bring to a boil; reduce heat. Cover and simmer about 6 hours or until tripe is tender. After 1 hour, skim foam from surface of soup. Skim again as needed. Add more water if liquid evaporates. Prepare Red Chile Puree. Add hominy and Red Chile Puree during last hour of cooking. Ladle into large bowls. Serve chopped green onions, cilantro, lemon wedges and hot corn tortillas separately. Makes 10 to 15 servings. Red Chile Puree: Remove stems from chiles. Break chiles open and rinse out seeds. Place in a saucepan with water to cover. Bring to a boil. Continue to boil until chiles are softened, about 5 minutes. Drain; discard water. Place chiles in blender; puree. Add enough water to make puree the consistency of tomato sauce. Press pureed chiles through a sieve to remove bits of peel. Makes about 1 cup.
Variation: Substitute 1 1/2 cups nixtamal (cooked dried corn) for canned hominy. Combine with soaked tripe and calf's foot, garlic, onion and water. Cook as directed above.