STRAWBERRY - Клубника
---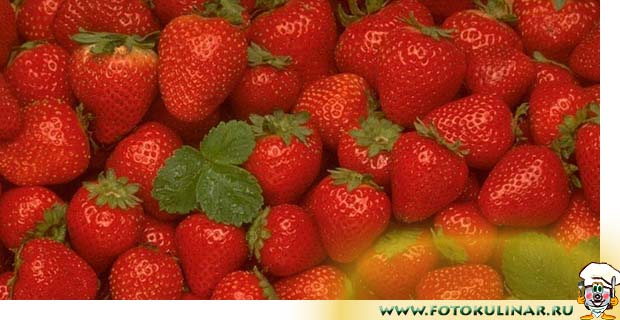 STRAWBERRY AND PINEAPPLE COCKTAIL
1 cup orange-juice
Sugar
l/3 cup lemon-juice
1 cup strawberries
1 cup diced pineapple
Combine the orange- and lemon- juice sweetened to taste, keeping the mixture rather tart. Chill. Wash and drain the strawberries and hull them. At serving time cut the berries in half (except six large ones), mix with the pineapple, place in glasses and cover with the fruit-juice. One large, perfect berry set on a tiny circle of pineapple may decorate the top of each cocktail.

Strawberry Spinach Salad
2 tablespoons sesame seeds
1 tablespoon poppy seeds
1/2 cup sugar
1/2 cup olive oil
1/4 cup white vinegar
1/4 teaspoon paprika
1/4 teaspoon Worcestershire sauce
1 tablespoon dried minced onion
1 (10 ounce) bag fresh spinach - chopped, washed and dried
1 quart strawberries, sliced
1/4 cup toasted slivered almonds
Whisk together the sesame seeds, poppy seeds, sugar, olive oil, vinegar, paprika, Worcestershire sauce, and onion. Refrigerate until chilled.
In a large bowl, combine the spinach, strawberries and almonds. Pour dressing over salad; toss and refrigerate 10-15 minutes before serving.

Did you know?
Strawberries contain higher levels of vitamin C than any other berry, and they are very low in calories, about 27 calories per 100g.


Luscious fresh fruit salad

Serves 4
100g cater sugar
150ml medium-dry white wine
2 tablespoons lemon juice
2 tablespoons orange liqueur or orange juice
2 springs of mint
2 oranges
375g strawberries
1 small mango
225 black seedless grapes

Place 300ml water in a pan or wok with sugar and wine. Heat gently, stirring occasionally, until the sugar dissolves. Bring to the boil and simmer for 5 minutes. Off the heat, stir in the lemon juice, orange liqueur or juice and mint sprig. Allow to cool and stand for 30 minutes.

Peel and slice the oranges. Hull and halve the strawberries. Peel the mango, cute out the stone and chop the flesh. Wash the grapes and pat dry.



Pour the syrup into a bowl and add the fruit. Cover and chill or serve immediately with a mint spring garnish.

You can use any combination of fresh fruit for this salad, depending on what in season. Melon balls, sliced kiwi fruit, whole cherries, diced pineapple and slice peaches all work well.

Serving tips: 1) For a luxurious finish, serve the salad with whipped cream or Greek-style yoghurt flavoured with a dash of orange liqueur or a little grated orange rind. 2) For a crunchy contrast, sprinkle toasted flaked almonds over the salad just before serving. Accompany with crisp biscuits, such as almond tuiles.