STEAK - Кусок мяса (рыбы) для жаренья
---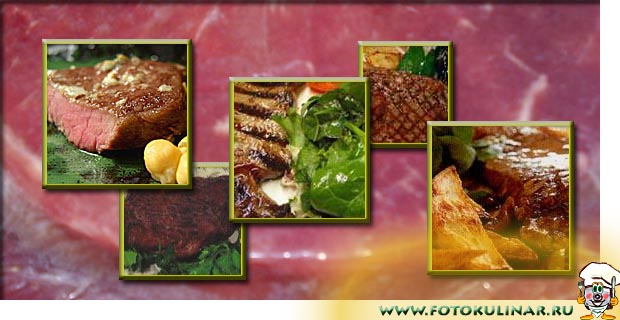 SWISS STEAK
2 pounds steak cut 2 1/2 inches thick from shoulder, rump or round
Salt and pepper
1/2 green pepper, chopped fine
2 cups boiling water or 1 cup water and 1 cup strained tomatoes
1/2 cup flour
2 tablespoons fat
Few slices onion
Season the flour with salt and pepper and pound it into the
meat with a wooden potato-masher, or the edge of a heavy mallet. Heat the fat and brown the meat in it. Add the onions, green pepper, boiling water and tomato. Cover closely.
Simmer for 2 hours. This may be cooked in a casserole in a moderate oven (350F.) about 1 to 1 1/2 hours. Vegetables may be added as desired. Serves 6.
STUFFED STEAK
2 pounds flank or round steak
1 tablespoon chopped onion
1 cup crumbs
1 small turnip, diced
l/2 cup stock or water
l/2 cup chopped celery
1 teaspoon salt
1 small carrot, diced
l/4 teaspoon pepper
Flour
The meat should be cut from one-half inch to one inch thick. Wipe the steak, remove the skin and lay the meat out flat on a board. Make a dressing of the crumbs, stock or water, salt, pepper, chopped onion and a small amount of celery and spread It on the meat. Roll the steak with the grain, so that when it is cut it may be cut across the grain of the meat. Place the diced vegetables in a roasting-pan and on them lay the rolled steak. Add two or three cups of water, depending upon the size of the pan. Cover and bake in a slow oven (350 F.) for
three hours, or until tender.
If you prefer to cook this meat on top of the stove, melt onehalf cup of suet in the bottom of a flat-bottomed iron or heavy aluminum kettle, flour the meat thickly and lay the roll in the kettle. Turn from side to side until it is well browned, then add hot water nearly to cover, and simmer slowly for three hours.
When the meat is cooked, remove it from the kettle or roasting-pan and thicken the broth, using one to two tablespoons of flour to each cup of gravy.
BEEFSTEAK PIE
2 pounds rump, flank or chuck steak
Sliced potatoes
Butter or other fat
Pie paste
Flour
Chopped onion
Egg
Salt and pepper
Cut the meat into strips two inches long by one inch wide. Put them with the bone, just cover them with water and simmer about an hour. Line the sides of a baking-dish with pie paste; put in a layer of meat with a few thin slices of onion, and sprinkle with salt and pepper; next add a layer of sliced potatoes, with bits of butter dotted over it. Alternate the steak and potato layers until the dish is full. Thicken the gravy with browned flour and pour in, put on a top crust, brush it with beaten egg and bake at 450 F. until quite brown about thirty minutes.
BROILED STEAK
1 porterhouse, sirloin or club steak
Salt and pepper
2 tablespoons butter
Select a steak at least 1 to 1 1/2 inches thick. Heat the broiler for 1 minutes with regulator set at 350 F. Arrange steak on a rack. Place rack 4 inches under heat. Broil for half the specified time, season with salt and pepper, turn and broil on other side.
Remove to a hot platter. Place butter on top of steak, sprinkle with salt and pepper and serve at once. Allow l/2 pound of meat per person.
PAN BROILED STEAK
Heat a heavy skillet until sizzling hot. Place meat in hot pan and brown well on both sides. Reduce temperature and cook until the desired degree of doneness, turning from time to time, being careful not to pierce meat. Pour off fat as it accumulates in the pan. Place meat on a hot platter, spread with butter and season with salt and pepper.
WITH MUSHROOMS
Use mushroom caps, whole or sliced. Saute slowly in hot butter 5 to 10 minutes, stirring frequently. Allow 2 tablespoons butter for y2 pound mushrooms.
WITH ONIONS
Slice onions into water and drain. Place in a shallow saucepan, cover closely, and cook over a slow heat for fifteen or twenty minutes, till tender. No water or fat should be used, as the onions contain both moisture and richness. Pan-broil the steak. Put the onions into the pan in which the steak was cooked and brown them. Serve steak with onions around it.
WITH OYSTERS.
1 quart oysters
3 tablespoons butter or other fat
1 tablespoon sifted flour
Set the oysters, with a very little of their juice, over the fire; when they come to a boil, remove any scum and stir in the fat in which the sifted flour has been rubbed. Boil one minute, pour over the steak and serve at once.
PLANKED STEAK
1 tender steak, 2 inches thick
Butter
Duchess potatoes
Minced parsley
Various kinds of cooked vegetables
Salt
Paprika
Trim the fat and make outline of the steak even. Sear it on both sides on a hot griddle or pan, using no fat, or on a broiler. Cook fifteen minutes, turning frequently. Oil a heated plank (see directions for planked fish), place the steak on the plank, and arrange border of Duchess potatoes around it. Arrange other cooked vegetables, such as stuffed tomatoes or green peppers, small boiled onions, peas, string beans and cubes of carrot or turnip, around the steak, also, so that the board is entirely concealed. Place the plank in the oven until the potato border is browned and all the vegetables are heated through.
After removing it from the oven, spread the steak with butter into which has been rubbed minced parsley, salt and paprika.
Send to table upon the plank.
HAMBURG STEAK
2 pounds chopped beef
Onion-juice
l/4 pound suet
Flour
Butter
Salt and pepper
Have the butcher chop the beef and suet together twice. Press it into a flat steak about three-fourths of an inch thick, sprinkle with salt, pepper, a little onion-juice and flour. Broil on a fine wire broiler or saute in a little fat. Spread with butter and serve on a hot dish.
This steak is sometimes shaped into small, thin, flat cakes. When it is sauted, a gravy may be made by thickening the juices in the pan, to which a little water has been added. Two tablespoons of melted butter and one tablespoon minced onion mixed with the meat and seasonings improves Hamburg steak.
BAKED HAMBURG STEAK
1 l/2 pounds chopped beef
2 eggs
2 cups bread soaked in milk
4 hard-cooked eggs
1 small onion, minced
1 cup tomatoes
1 tablespoon butter or other fat
l/2 cup sliced onion
Salt, pepper, ginger
Have the meat put through the grinder twice. Add the bread, the onion, seasonings to taste and the two uncooked eggs, well-beaten. Arrange the hard-cooked eggs end to end across the middle of the meat and roll the meat mixture around them. Place the roll in a baking-pan, pour over it a sauce composed of the tomatoes, sliced onions, butter or other fat and water, and bake in moderate oven (350-375 F.) for about two hours, basting frequently with sauce. In serving, slice the roll crosswise. The hard-cooked eggs may be omitted.
Carne Asada
1 20 Ounce top sirloin steak
2 Tablespoon Vegetable oil
1/2 Teaspoon Dried leaf oregano, crushed
1/2 Teaspoon Salt
1/4 Teaspoon Coarsely ground pepper
1/4 Cup Orange juice
1 Tablespoon Lime juice
2 Teaspoon Cider vinegar
2 Orange slices, 1/2" thick
Place steak in a shallow glass baking dish. Rub with oil on each side. Sprinkle with oregano, salt and pepper. Sprinkle orange juice, lime juice, and vinegar over the steak. Cover and refrigerate overnight for best flavor or several hours, turning occasionally. To cook, bring meat to room temperature. Prepare and preheat charcoal grill (or gas grill). Drain meat, reserving marinade. Place steak on grill. Top with orange slices. Occasionally spoon reserved marinade over steaks as they cook. Grill 3-4 minutes on each side, or until medium- rare. Cook longer if desired. Remove orange slices to turn steak. Replace orange slices on top of steak.
Ropa Vieja
3 pounds flank steak
1-1/2 cups water
6 whole garlic, peeled
6 whole black peppercorns
salt to taste
8 poblano peppers, fresh
1/2 cup lard, bacon drippings, or veg.oil
2 garlic clove, peeled and sliced
1 large onion, sliced
1/8" thick flour
tortilla
1. Cut the flank steak in half horizontally so it will fit into a large Dutch oven. Place it in the pot and cover it with the water. Add the six whole cloves of garlic, along with the peppercorns and salt as desired. Place over low heat and bring the liquid to a simmer. Cover and continue cooking over low heat, turning the meat occasionally, until it is tenderand well done, about one and a half to two hours.
2. While the meat is stewing roast, peel and seed the peppers and slice each pepper lengthwise into strips an eighth of an inch wide. Set aside.
3. When the meat is tender, remove the Dutch oven from the heat and let the meat cool in its own broth. When it coolds enough to handle, remove it from the broth and place it on a cutting board. Slice the meat across the grain into stips about two inches across. Using your fingers, pull the meat into fine shreds. Return it to the broth.
4. Heat the lard or other fat in a large heavy skillet over medium heat until it is rippling. Crush the sliced garlic cloves and add to the hot fat. Saute for one minute, stirring frequently. Add the sliced onions and saute until it's somewhat soft, about three minutes. Add the reserved pepper strips to the pan and continue sauteing and stirring for about two minutes. 5. Using a slotted spoon, transfer the peppers, onion and garlic to the Dutch oven. Cook the meat mixture, uncovered, over medium heat, stirring frequently until the flavors are blended about 10 to 15 minutes. Serve the meat hot, rolled up in heated flour tortillas.