SALADS - Салаты
---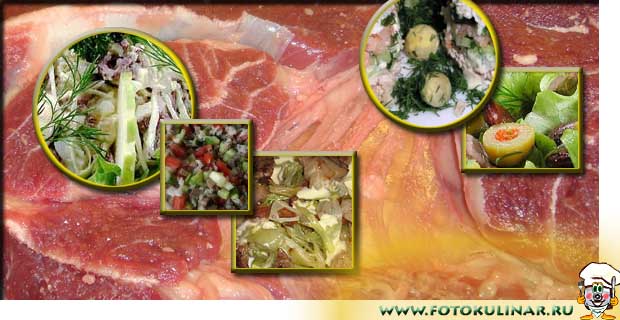 Fruits, nuts, uncooked and cooked vegetables and some cooked meats, fish and fowl, served cold and dressed with condiments, oils and acids, are known as salads.
Utensils Needed for Salad Making
A chilled earthenware bowl is excellent for mixing salad ingredients. Two forks or a fork and a spoon are better to use in folding together the ingredients than a spoon alone, because they do not crush the materials so much as a single utensil.
A sharp-edged knife or vegetable cutter is necessary for slicing vegetables or fruits. Where fruit pulp is to be removed from the thin white membrane enclosing it, a thin narrow knife slightly curved at the tip is useful. A pair of shears can be used for many of the processes of salad making, such as shredding lettuce, clipping off wilted or discolored edges, etc.
Various fancy shapes for molding individual salads may be bought,- or tea-cups or small bowls may be used as molds. Gelatin salads may be put into pans and cut in square or fancy shapes after they have hardened. The cube trays of mechanical refrigerators are excellent for molding gelatin,
Materials for Salads
VEGETABLES Leaf vegetables, such as head lettuce, curly lettuce, endive, chicory, romaine, water cress, celery and cabbage, make very attractive salads served alone with a dressing or in combination with other materials.
Tomatoes, cucumbers, celery, cabbage and ground carrots are excellent uncooked materials for salad, as are also Bermuda or Spanish onions in thin wafer-like slices or young spring onions marinated in French dressing.
Many cooked vegetables, such as peas, carrots, beans, beets, cauliflower, spinach, asparagus and potatoes, are used in salad making, alone or in combination.
FRUITS The fruits most commonly used in the preparation of salads are oranges, bananas, apples, cherries, grapefruit, grapes, peaches, pears and pineapple. Watermelon or cantaloupe adds a delicious flavor to a fruit salad.
DRIED FRUITS Dates, figs and raisins give variety to fruit salads.
MEATS Chicken always makes a delicious salad. Veal and pork may be combined with chicken and it is difficult to detect their use. They may be used alone in salads, also.
Crab, lobster, shrimp, oysters, salmon, tuna fish and sardines are most commonly used in fish salads. Any firm-fleshed cooked fish may be diced and combined with other materials.
CHEESE Cream cheese or cottage cheese, served in mounds on lettuce leaves, makes an attractive salad, with bar-le-duc or other jelly or jam as a garnish. It can also be mixed with green peppers or pimientos, rolled in nuts, served with pine- apple or molded in a loaf and sliced.
EGGS The most common egg salad is the "deviled egg," or salad egg. Hard-cooked eggs can be cut in slices or quarters or fancy shapes and served on a bed of lettuce leaves with a dressing or used with other ingredients in a vegetable or fish salad.
HERBS Such herbs as chervil, mint, parsley, peppergrass, sorrel and tarragon may be added to salad to give a pungent flavor.
Fennel (finochio) tops, or root and stem of anise flavor, dandelion, chard, escarole, celery cabbage or cooked zucchini are used both as body of the salad and as flavoring. Those who have a garden will find dill, nasturtium leaves and seeds, catnip and rose geranium leaves usable.
Important Points in Salad Making
WASHING INGREDIENTS Wash salad greens and examine to insure the removal of all aphids. Then soak in cold water for half an hour to crisp, and dry on a towel or by shaking in a wire basket.
CHILLING INGREDIENTS All ingredients, fruits, vegetables, and dressing, should be chilled (see directions on next page for keeping materials) before being folded together. The bowl used should be chilled; also the plates upon which the salad is served.
FROZEN SALADS This name may seem misleading because pieces of fruit or vegetable in salads should never be actually frozen. Combined with whipped cream and mayonnaise, the mixture is frozen like mousse, but it should not be frozen long enough to harden the fruit or vegetable. Salads made of vegetable or fruit pulp may be frozen. The freezing can be done by packing in ice and salt or by placing the mixture in the drawers of a mechanically cooled refrigerator.
KEEPING MATERIALS Lettuce, most vegetables and many fruits may be kept for days by wrapping in a damp cloth or paper bag and placing on ice. In a mechanically cooled refrigerator, lettuce and other salad greens keep best if they are washed and placed in closely covered enamel or porcelain containers with a very little water.
CUTTING MATERIALS Salad materials should be cut in uniform, well-defined pieces small enough so that they will not lose their shape in the folding process. If part of the celery to be used is tough, cut it in fine pieces and cut the tender parts in larger pieces. In this way the toughness will not be detected.
When both the dark and light meat of chicken are used, dice the dark in small cubes and the light in larger cubes. This gives a more pleasing appearance to the salad. If veal or pork is used to extend the chicken, dice it finer than the chicken and its presence will not be detected.
MARINATING SALADS A marinade is used to give flavor to salad materials and is made by mixing oil, salt, and lemon-juice or vinegar (sometimes onion- juice ). The vegetables, fish or meat may stand an hour or so in the marinade before using. When several vegetables are to be used, each one should be marinated separately. For serving, these vegetables may be combined, or placed on lettuce leaves in small individual mounds, as preferred.
ADDITION OF SALAD DRESSING The dressing should never be folded into the salad until time for serving, except in the case of a salad like potato salad, when it is preferable for the dressing to soak in.
ARRANGEMENT OF SALAD The lettuce leaf should have the stem end cut off so that this ragged part does not hang over the edge of the plate. Care should be taken that the garnish is carefully placed.
Place the salad on the lettuce leaf carefully so that it will not fall apart and spread ungracefully over the plate. No part of the salad should extend beyond the edge of the plate.
Garnishes for Salads
Chives, mint, chervil, parsley and similar small greens may be minced and sprinkled over a green salad.
Strips of pimiento and green pepper, or a dash of paprika may be used to give life to a colorless salad.
A chapon is a small piece of bread rubbed with garlic. When placed in a salad-bowl it gives a delicious flavor to the salad.
The outside leaves of a head of lettuce may be used as garnish for a salad, reserving the heart for heart-of-lettuce salad.
MOLDED SALADS
Among the most decorative ways to serve jellied salad are the form mold and the ring mold. The latter lends itself to many additional touches since the center may be used for decorative vegetables, a pile of cut jelly of contrasting color or the bowl of salad dressing. Of exact size to fit, the bowl may be of glass, china or silver. Be sure the plate onto which the ring is unmolded is large enough for all the decoration planned.
COLD MARINADE
3 tablespoons oil
1 teaspoon salt
6 tablespoons lemon-juice or vinegar
l/2 teaspoon pepper
l/2 teaspoon onion-juice
For fish, use three tablespoons vinegar and three tablespoons lemon-juice. Mix the ingredients thoroughly in the order given. The onion-juice may be omitted.
CAMBRISSON SALAD
1 cup cooked beef
4 anchovies
2 hard-cooked eggs
1 small head lettuce
2 tomatoes
Cut the beef into small pieces, add the sliced eggs and tomatoes, and the anchovies cut up into small pieces. Serve on lettuce with French or mayonnaise dressing.
Taco Salad
1-1/2 Pound Ground beef
Bottled French dressing
1/4 Cup Onion, chopped
1/2 Teaspoon Salt
1/4 Teaspoon Pepper
1/2 Teaspoon Dried oregano, crushed
1/2 Head iceberg lettuce, finely shredded
2 Tomatoes, cut in wedges
8 Ounce Can corn, drained
8 Ounce Can garbanzo beans, drain
1/2 Cup Radish slices
1-6 1/2 oz Package Tortilla or corn chips
1 Avocado, peeled and sliced
4 Ounce Cheddar cheese, shredded
Pitted black olives, sliced
Sour cream
Brown meat and drain off fat. Add 1/3 cup French dressing, onion, salt, pepper and oregano. Simmer 5 minutes. Combine lettuce, tomatoes, corn, beans, radishes and enough dressing to moisten. Toss lightly. For each salad, serve meat mixture over tortilla chips. Top with lettuce mixture, avocado, cheese, olives and sour cream, as desired.
Greek Salad
1 head iceburg lettuce
1 head romaine lettuce
1 lb. plum (roma) tomatoes
6 oz. greek or black olives, sliced
4 oz. sliced radishes
4 oz. feta cheese
2 oz. anchovies (optional)
Dressing:
3 oz. olive oil
3 oz. fresh (preferred) lemon juice
1 teaspoon dried oregano
1 teaspoon black pepper
1 teaspoon salt
4 cloves garlic, minced
Wash and cut lettuce into 1 1/2" pieces.
Slice tomatoes in quarters. Combine lettuce, tomatoes, olives, and radishes in large bowl. Mix dressing ingredients together and then toss with vegetables. Pour out into a shallow serving bowl. Crumble feta cheese over all, and arrange anchovy fillets on top (if desired).
Taco Salad
1 pound lean ground beef
1 tablespoon chili powder
1 head iceberg lettuce, chopped or shredded
1 bunch romaine lettuce, chopped
3 large tomatoes, diced
1 green bell pepper, diced
1 red bell pepper, diced
1 bunch green onions, chopped
1 (4 oz.) can jalapeno peppers or 3 to 4 fresh ones,
finely chopped
1 (15 oz.) can red kidney beans, drained
1 (15 oz.) can garbanzo beans, drained
1 (12 oz.) bag shredded Cheddar cheese, divided
2 (14.5 oz.) bags corn tortilla chips, crushed
2 cups Miracle Whip
1 cup ketchup
1 (1.25 ounce) package taco seasoning mix
Brown the beef, drain, season with chili powder and set aside to cool.
Prepare the dressing by whisking the Miracle Whip, ketchup and taco seasoning mix together in a small bowl.
In a large bowl, combine iceberg lettuce, romaine lettuce, tomatoes, green pepper, red pepper, green onions, jalapeno peppers, kidney beans, garbanzo beans, half of the cheese, half of the crushed chips, dressing and cooled ground beef. Mix well, cover and refrigerate.
Just before serving, top the salad with the other half of the cheese and crushed chips. Serve with whole chips on the side.
Golden Corral's Seafood Salad
1 lb. imitation crab meat, shredded
1 cup diced celery
1/2 cup mayonnaise
1/4 cup sliced green onions (with the green too)
1 tablespoon lemon juice
3 hard boiled eggs, chopped.
Mix all ingredients. Refrigerate for about an hour to allow flavors to blend. Serve either as a salad, on lettuce, or on split croissants.
Mediterranean Salad
1 medium head romaine lettuce, torn
3 small tomatoes, diced
1 medium cucumber, sliced
1 small green bell pepper, sliced
1 small onion, cut into rings
6 radishes, thinly sliced
1/2 cup flat leaf parsley, chopped
1/3 cup olive oil
3 tablespoons lemon juice
1 garlic clove, minced
Salt & pepper
1 teaspoon fresh mint, minced
Pita bread halves
Combine lettuce, tomatoes, cucumber, pepper, onion, radishes & parsley in a salad bowl. Whisk together olive oil, lemon juice, garlic, salt, pepper & mint. Pour over salad & toss to coat.
Serve immediately with warm pita halves.
Spicy Pecan Salad
1 heart of romaine lettuce
red onion
1/8 cup crumbles blue cheese
2 oz. spicy pepper pecans (chopped)
4 teaspoons raspberry vinaigrette (per serving)
Toss romaine lettuce with raspberry vinaigrette and divide evenly on salad plates. Slice red onion paper-thin and layer to taste on top of the greens. Sprinkle with blue cheese crumbles and spicy pepper pecans to taste.
Spicy Pepper Pecans:
2 oz. or 1/2 cup of chopped pecans
3 teaspoons dark brown sugar
1/2 teaspoon cayenne pepper
Rinse pecan pieces to dampen. Combine brown sugar and cayenne pepper in a small bowl. Mix in damp pecan pieces and toss until thoroughly coated. Spread evenly on cookie sheet then place in preheated 400F oven and cook 5 to 10 minutes or until brown sugar is thoroughly melted on pecans. Remove and let cool.
Lily Salad
Placed shelled, hard-boiled eggs in cold salt water for one hour. Wipe dry, cut a thin slice from large end of eggs, then with sharp knife, directing stroke from small end downward, cut whites into sections like petals of water lilies. Mash yolks of eggs, mix with equal quantity of grated cheese, moisten with French dressing, add salt and pepper, and arrange on lettuce leaves to stimulate center of lily, arranging whites for petals.