POTATO - Картошка
---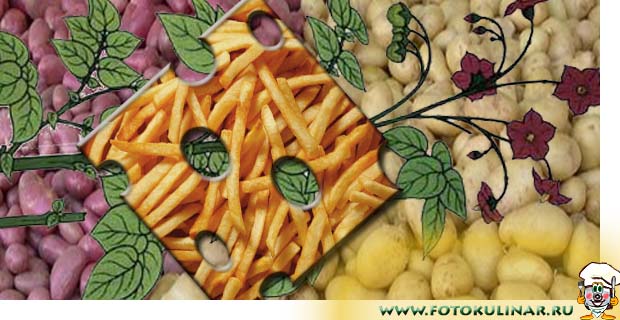 CREAM OF ONION AND POTATO SOUP
3 cups scalded milk
4 medium potatoes
1 cup potato water
4 onions
2 tablespoons flour
1 tablespoon chopped parsley
2 tablespoons butter
Salt and pepper
Boil the potatoes and onions together, until tender. Drain. Save the water and rub the vegetables through a coarse strainer.
Make a white sauce of the liquid, flour, and fat and combine with the potato and onion pulp. Season with chopped parsley, salt and pepper. Beat with an egg-beater and serve with croutons.

POTATO SALAD
No. 1.
1 quart potatoes
2 tablespoons grated onion
2 tablespoons chopped parsley
French dressing to moisten
Boil the potatoes with skins on and allow them to cool before peeling, as it is considered a good thing to have potatoes waxy rather than mealy for salad. Peel potatoes, cut into small pieces or thin slices, and mix with parsley, onion, and French dressing. Set in a cool place for two hours before serving.
No. 2.
1 quart new potatoes
1 tablespoon chopped parsley
1 tablespoon oil
Salt and pepper
2 tablespoons vinegar
Thin mayonnaise or boiled dressing
1 onion
2 stalks celery
Cut beets
1 tablespoon capers
Lettuce, lemon
Boil potatoes until done, but not too soft, slice them when cooled and add oil and vinegar. Chop onion and celery very fine, and add, with capers, parsley, and salt and pepper to taste. Pour a thin mayonnaise over all, mixing thoroughly with a wooden spoon and fork. Garnish with lettuce, a few pieces of lemon and cut beets.

3
Four large potatoes, one-half a small onion, a little celery, chopped fine. If the potatoes have been boiled in their skin they are better. The dressing consists of one cupful of cream, one tablespoonful of corn starch, one egg, two tablespoonfuls of butter, three tablespoonfuls of vinegar, one-half teaspoonful of mustard, one of sugar, salt and pepper to taste.

POTATO AND PEA SALAD
2 cups boiled potatoes, diced
l/2 cup French dressing
1 cup boiled peas
Lettuce, mayonnaise
Pour two-thirds of the French dressing over the diced potatoes, and the other third over the cold peas, and set where they will be chilled. After an hour, combine them and arrange on lettuce leaves. Garnish with mayonnaise.

Gnocchi Alla Giordano
2 pounds Baking potatoes
1 cup All-purpose flour
1 Whole egg plus
1 Egg yolk, lightly beaten
2 tablespoons Unsalted butter, softened
1 teaspoon Salt
Freshly grated Parmesan cheese
Tomato sauce
Boil the potatoes in their jackets, drain, peel and put through a ricer or food mill. While the potatoes are still warm, blend in the flour, add the egg, egg yolk, butter and salt.
Place the potato mixture on a floured board and knead lightly; the dough will be soft. Roll the dough in 1" thick sticks about 10" long. Cut each roll into 3/4" pieces.
Rub each pieces of dough lightly over the coarse side of a cheese grater. In a large pot of boiling salted water, cook the gnocchi until they rise to the top of the water. Using a slotted spoon, remove the gnocchi to a warm bowl. Sprinkle with Parmesan cheese, top with tomato sauce and serve at once.

Baked Potato with Spicy Chicken Topping
4 baking potatoes
2 tablespoons olive oil
1/2 cup slivered almonds
1 cup chopped onions
1/4 teaspoon garlic powder
1 lb. boned chicken breast, cut in strips
2 tablespoons flour
1 1/4 cup chicken broth
3 tablespoons lemon juice
1 teaspoon cinnamon
1 teaspoon paprika
1/2 teaspoon salt
1/2 teaspoon Tabasco
1/2 cup raisins
Scrub potatoes, dry and prick with fork. Cook. In a large skillet, heat oil and saute almonds until golden brown. Add onion and garlic. Saute until tender. Add chicken and cook, stirring, until chicken turns white. Sprinkle with flour and mix well. Combine broth, lemon juice, cinnamon, paprika, salt, and Tabasco. Gradually add to chicken mixture, stirring constantly, until mixture boils and thickens. Stir in raisins. Simmer 3 minutes. Spoon over blossomed potatoes.

Dijon Mushroom Potatoes
1 medium onion
1 sweet green bell pepper
1 small carrot
1/2 lb. mushrooms
1/2 cup stock or boullion
1 tbsp. dark soy sauce
1 tbsp. Dijon mustard
1 tbsp. cornstarch
freshly-ground black pepper
Chop the onion, deseed and chop the green pepper, peel and grate the carrot and slice the mushrooms, halving them across the other way first if they are large.
Saute the vegetables in the water or stock, in a large frying pan, until most of the liquid is gone and the vegetables are soft.
Mix the remaining ingredients together in a bowl, adding a bit of water if you wish (makes a thinner sauce) and add to the vegetables in the pan. Mix well and cook, stirring, over low heat for about a minute until thickened.
Pour over hot, split baked potatoes (enough for about four potatoes) with a crisp green salad on the side.

German Potato Salad
1 Pkg. frozen vegetarian bacon, thawed and chopped
1 tablespoon flour
1/4 cup of sugar
1/3 cup of white vinegar
2/3 cup of hot water
2 pounds of white potatoes, boiled for 25 minutes, covered until just tender
8 to 10 green onions, finely chopped (1 cup)
1/2 teaspoon of salt
1/8 teaspoon ground black pepper
In a non-stick skillet cook bacon over low heat, stirring constantly for about 8 minutes or until crispy.
Add flour and stir for about one minute. Combine sugar, vinegar, hot water and add to bacon mixture. Cook, stirring constantly, until sauce thickens.
Drain potatoes well, cool, peel and slice. Add to the sauce along with the onion, salt and pepper. Serve warm or chilled.

Potato Gnocchi (trickled pastries) with Sage Cream
2 cups whole milk
1 teaspoon dried sage leaves
1 cup chopped onion
2-3 teaspoons margarine
4 cups small broccoflower, or broccoli, florets
1/2 cup water, divided
1 package (16 ounces) potato gnocchi, cooked, warm
2 tablespoons all-purpose flour
1/2 teaspoon ground nutmeg
Salt and pepper to taste
Shredded Parmesan cheese, for garnish
Heat milk and sage leaves to boiling in medium saucepan; reduce heat and simmer 10 minutes.
Saute onion in margarine in large skillet 2 to 3 minutes; add broccoflower and 1/4 cup water and heat to boiling. Reduce heat and simmer, covered, until broccoflower is tender and water gone, 5 to 8 minutes.
While vegetables are cooking, cook gnocchi according to package directions; add to vegetables in skillet.
Heat milk and sage mixture to boiling. Mix flour, nutmeg, and remaining 1/4 cup water; whisk into milk. Boil, whisking constantly, until thickened, about 1 minute. Pour sauce over vegetables and gnocchi in skillet and season to taste with salt and pepper. Spoon into serving bowl; sprinkle with Parmesan cheese.

Deli Potato Salad
6 to 10 potatoes, boiled, cooled and cut in chunks
3 hard boiled eggs, chopped
1/2 lb. salami, ham, or other favorite deli meat, cut in chunks
3 dill pickles, chopped
1 onion, chopped
2 apples, cored and chopped
3 tbsp. mayonnaise
3 tbsp. red wine vinegar
salt and fresh ground pepper to taste
paprika
Mix potatoes, pickles, eggs, apple and onion in a large bowl. Fry salami lightly and drain off excess fat, cool. Stir salami, mayonnaise and seasoning into potato mixture. Chill for 2 hours before serving. Garnish with slivered red and green sweet peppers.

Potato Croquettes
Mix together one pint of hot mashed potatoes, teaspoonful of salt, one-third of pepper, one of onion juice, one tablespoonful of butter, one tablespoon chopped parsley, yolks two beaten eggs. Stir over fire until mixture leaves side of saucepan. When cool, shape into croquettes, dip each in beaten egg, roll in crumbs, and fry brown in deep kettle of smoking hot fat.
Lyonnaise Potatoes
Heat one tablespoon butter in frying-pan. Add one tablespoon chopped onion. When pale brown add one pint diced boiled potatoes, seasoned. Shake till butter is absorbed ; potatoes should not color. Add one tablespoon chopped parsley and take up.

Potato Cakes
Roast some potatoes in the oven; when done skin and pound in. a mortar with a small piece of butter, warmed in a little milk; chop a shallot and a little parsley very finely, mix well with the potatoes, add pepper, salt, shape into cakes, egg and bread crumb them, and fry a light brown.

Potato Noodles
Mash boiled potatoes fine and mix with enough flour to make a stiff dough. Pinch off bits of the dough and roll between the palms of the hands to little strips, the length of your smallest finger. Throw into a pot of boiling water. When they come to the top skim them out, put in a colander and hold under cold running water. When they are boiled and cooled, stand until dry. Fry brown in butter and serve with steak and tomato sauce.

Potato au Gratin
Slice cold boiled potatoes. Make a cream sauce from two tablespoonfuls each of butter and Sparry flour, one level teaspoonful of salt, one-eighth of a teaspoon of pepper. Heat butter, add flour and seasoning. When hot, add milk gradually and cook smoothly. Add potatoes, let heat through and put in buttered individual dishes or baking dish. Fold lightly some finely chopped cheese and bake about ten minutes in a moderate oven.

Crispy herbed potatoes
Serves 4
750g potatoes
2 red onions
6 tablespoons olive oil
100g Gruyère cheese
2 tablespoons chopped fresh basil
salt and black pepper

Peel the potatoes and slice very thinly with a mandolin or sharp knife. Place them in a bowl and cover with cold water. Allow to stand for about 10 minutes. Drain on kitchen paper.

Peel and slice the onions. Heat the oil in a large frying pan over a medium heat. All the onions and sauté for 2 minutes. Add the potatoes and cook for 15-20 minutes, turning frequently, until they are tender and golden.

Grate the Gruyère cheese. All the basil to the pan and stir it. Sprinkle the cheese over the top and cook for 2 minutes, without stirring, until the cheese melts. Season and serve.



Cook's tip: If you want to slice your potatoes really thinly and save on preparation time, use a food processor fitted with a slicing blade.

Serving tip: Serve this versatile side dish with a tasty warming lamb hotpot for a special winter treat or with cod fillets in the summer.