PORK - Свинина
---
Pork should have firm white flesh with a faint pink tinge. The fat should be clear white. Pork of dull appearance, with yellowish lumps through the meat or fat should be avoided.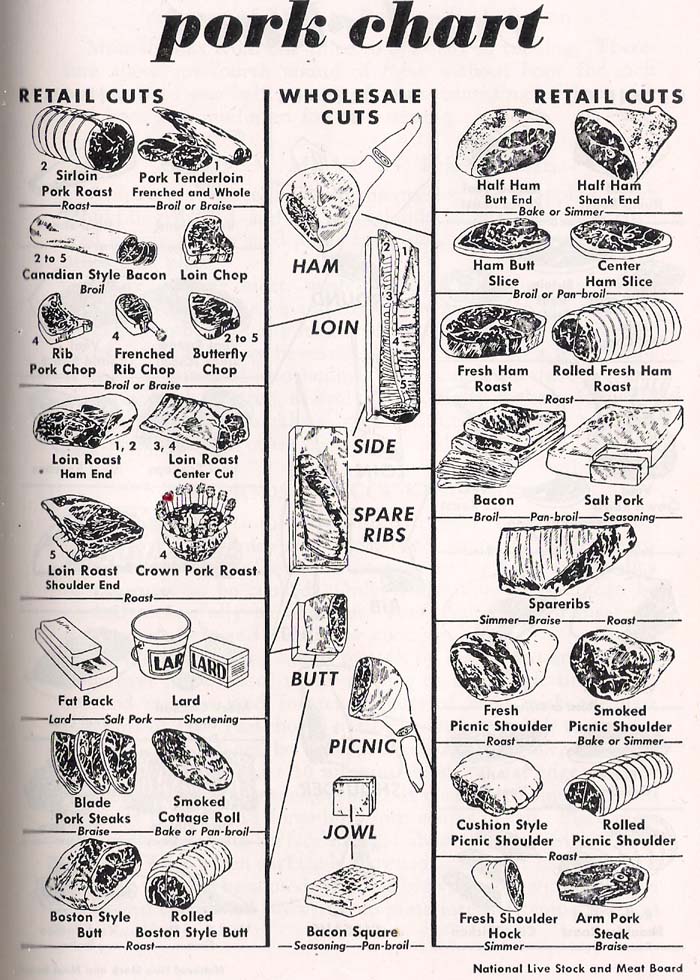 Pork with Broccoli in Oyster Sauce
1 teaspoon sugar
1 tablespoon cornstarch
1 teaspoon MSG (optional)
1/4 cup oyster sauce
1/2 cup chicken stock
2 cups sliced lean pork (about 1 pound)
1 bunch (about 2 pounds) fresh brocolli, sliced
2 slices ginger, shredded
1 clove garlic, minced
1/4 cup vegetable oil
1/8 teaspoon salt
1/4 cup water
Mix together first five ingredients and set aside.
Heat wok or pan until hot and dry. Add the oil, then the salt. Turn heat to medium. Add the ginger and the garlic and fry until golden brown. Turn heat to high. Add the pork and fry until outside is lightly browned. Add the broccoli and stir-fry for 3 minutes.
Add the water, cover, and cook for 4 minutes. Pour in reserved sauce mixture; stir while cooking until gravy thickens. Turn heat down to low, cover, and cook for 2 minutes more. Place in covered serving dish until ready to serve.

Autumn Pork Chops
6 Thick pork chops
2 Medium acorn squash
3/4 teaspoon Salt
2 tablespoons Margarine, melted
3/4 cup Brown sugar
3/4 teaspoon Kitchen Bouquet
1 tablespoon Orange juice
1/2 teaspoon Orange peel, grated
Trim excess fat from pork chops. Cut each squash into 4 or 5 crossways slices; remove seeds. Arrange 3 chops on bottom of crockpot. Place all squash slices on top; then another layer of three remaining chops. Combine salt, butter, sugar, bouquet sauce, orange juice and orange peel. Spoon over chops. Cover and cook on low 6-8 hours or until done. Serve one or two slices of squash with each pork chop.

Glazed Roast Pork Tenderloin
1/4 cup Dijon mustard
2 tablespoons orange juice
2 tablespoons honey
1 teaspoon grated orange rind
1/4 teaspoon ground cinnamon
1/8 teaspoon ground allspice
2 lbs pork tenderloin, trimmed of all visible fat
Preheat the oven to 325 degrees F.
In a small bowl, whisk together the mustard, orange juice, honey, orange rind, cinnamon and allspice. Set aside.
Place the pork on a rack in a shallow roasting pan. Insert a meat thermometer into the center of the pork. Roast for 30 minutes, or until the thermometer registers 160F. During the last 10 minutes of roasting, brush the pork occasionally with the mustard mixture.
Remove from the oven and let stand for 5 minutes before slicing and serving.

Oven-Baked Pork Chops
4 - 3 to 4 ounce lean pork chops, well-trimmed
1 cup low-fat buttermilk
1 cup fine bread crumbs
2 teaspoons dried basil
2 teaspoons paprika
1 teaspoon lemon pepper
1/2 teaspoon garlic salt
Allow pork chops to soak in buttermilk (in refrigerator) for at least one hour. In a small bowl combine bread crumbs and remaining spices. Preheat oven to 425F and spray a cookie sheet with non-stick spray oil. Spread mixture onto wax paper and dip each pork chop in crumb mixture. Place chops on prepared cookie sheet and bake for 20 to 25 minutes, or until chops are no longer pink (internal temperature of 160F).

Pork Carnitas
Guacamole (Аvocado salad)
4 Poblano Chiles; roasted and peeled
1 Onion; Medium, Cut in halves
1 Pound Center Loin Roast; boneless and cut into 2 X 1/4-inch strips
1 Clove Garlic; Finely Chopped
2 Teaspoon Vegetable Oil
2 Teaspoon Tomato Paste
1 Teaspoon Red Wine Vinegar
1/4 Teaspoon Salt
1/2 lb. plum tomatoes, finely chopped
Flour Or Corn Tortillas
Dairy Sour Cream
Prepare Guacamole; set aside. Cut chiles and onion halves lengthwise into 1/4-inch strips. Cook pork, chiles, onion and garlic in oil in a 10-inch skillet over medium heat, stirring occasionally, until pork is no longer pink, about 12 minutes. Stir in tomato paste, vinegar, salt and tomatoes; cook until hot. Serve with tortillas, Guacamole and sour cream.

Pork Loin Vampiro
3 medium-sized ancho chiles, stems, seeds and veins removed
2 cups fresh squeezed orange juice
3 tablespoons lime juice
1/4 cup grenadine
1/2 cup tequila
1 teaspoon salt
1 teaspoon thyme
1 cup sliced white onion
3 pound, lean boneless pork loin, (either a single loin or two loins tied together)
salt and pepper to taste
2 tablespoons lard or olive oil
Preheat your oven to 350 degrees
Toast the chiles on a skillet over medium heat for 30 seconds to 1 minute on each side, but do not allow them to scorch. Tear the chiles into pieces, place them in a bowl, cover them with boiling water, and allow them to rehydrate and soften for 15 minutes. Drain the chiles and place them in the bowl of a blender. Add the orange juice and lime juice and blend for 1 minute. Strain the mixture through the fine blade of a food mill, then add the grenadine, tequila, salt, thyme and onion, and reserve.
Salt and pepper the pork. In a Dutch-oven or heavy baking dish, heat the oil over medium high heat until it is very hot but not quite smoking. Add the pork and sear it, turning as necessary, until it is golden brown on all sides, about 4 minutes. Remove the pork to a plate and the pot from the heat and allow it to cool, briefly. Add the chile mixture, stirring well to incorporate any caramelized pieces of pork and juices from the bottom of the pot. Put the pork back in the pot, fat side up, replace it on the burner and heat until the sauce just begins to bubble lightly, but do not bring it to a complete boil. Place the pot in the preheated oven and bake, uncovered, until pork reaches an internal temperature of between 145 and 150 degrees, (about 30 minutes per pound for a roast with two loins tied together, or a total of about 1 hour for a single loin) spooning some of the sauce over it every 15 minutes. Remove the pork from the pot, and allow it to rest for 5 minutes, then slice it into servings. While the meat is resting you can reduce the sauce if it is too thin.
Spoon some sauce on each of 4 serving plates, and top with a slice of pork. Mexican style white rice and sauteed nopalitos or squash go well with this dish.

Stuffed pork chops

4 port chops
Sage and onion stuffing
1 oz. lard
Seasoning

1. Prepare chops, place in dish. Season.
2. Make up stuffing. Spread stuffing over chops. Dot with lard, cover with foil, do not seal. Bake.
Serve with Apple Sauce.


A layer of finely chopped onions may be placed under chops
Source: The Tricity Cookery Book

Granny's Pork Casserole (The Belling Recipe Collection)

675g diced pork
Seasonal flour
50 ml vegetable oil
175 g button mushrooms
1 onion, peeled and chopped
250 ml stock or cider
2 granny smith apples, peeled, cored and sliced
optional – 125 ml natural yogurt
Chopped parsley

1. Coat port in seasonal flour and fry in oil until browned, transfer to casserole dish.
2. Fry mushrooms and onion in oil until golden.
3. Gradually add stock and bring to boil, stirring continuously.
4. Pour mixture over pork, stir well.
5. Cover dish.
6. Cook:

FAN OVEN: 155˚C for 1¼ -1½ hours
CONVENTIONAL OVEN: preheat shelf 3 180˚C for 1½ -1¾ hours
SECOND OVEN: preheat 170˚C for 1½ -1¾ hours shelf on base

7. Add sliced apples to the casserole, stir well, cook for a further 15-20 minutes.
8. Optional: Stir in yoghurt
9. Sprinkle with parsley to serve.