PEPPER - Перец
---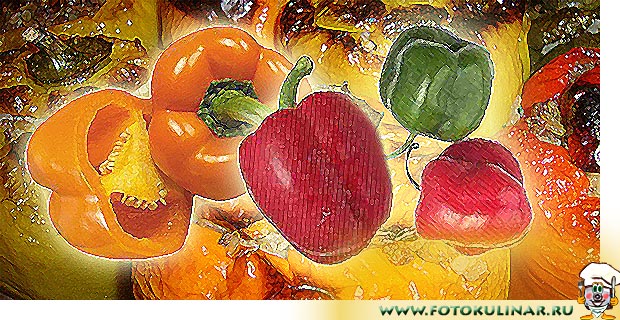 Stuffed Roasted Peppers
4 - 7 oz. cans roasted peppers
1 cup seasoned breadcrumbs
8 oz. shredded fontina cheese
3 cloves minced garlic
1/4 cup imported grated romano cheese
A few sprigs of fresh parsley, chopped fine
Salt and pepper
Flour and beaten eggs (enough to dredge peppers in) Olive oil to fry peppers in
Drain peppers and rinse with water. Open peppers, splitting in one side, so that they lay flat on counter. Sprinkle with small amount of breadcrumbs, reserving most to coat peppers with. Add minced garlic, shredded fontina cheese, parsley, and grated romano cheese. Roll up peppers, keeping as much filling inside as possible, then dredge in flour, egg, then seasoned bread crumbs and set aside. Heat olive oil on medium-high heat in frypan. When hot, fry peppers until golden, turning once to brown evenly. Sprinkle with salt and pepper and serve.
Chiles Rellenos
12 Large Mild, green chiles w/stems
1/2 Pound Jack cheese cut into long narrow, strips.
BATTER:
1 Cup All purpose flour
1 Teaspoon Baking powder
1/2 Teaspoon Salt
3/4 Cup Yellow or white cornmeal
1 Cup Buttermilk
2 Eggs, slightly beaten
Parch and peel chiles leaving stems on. Cut small slit below the stem, removing seeds if desired. Insert strips of Jack cheese being careful not to split chile.
Prepare batter: Sift flour with baking powder and salt, then add cornmeal. Blend buttermilk and slightly beaten eggs, then combine milk mixture with dry mixture and blend together. Slightly moisten each chile with water dip in plain flour, then in batter. Allow to drain slightly and drop in deep fat which has been heated to 375 F.
Fry until golden. Drain on paper towels. Keep warm on platter in 300 F. oven while completing frying and serve immediately.
Stuffed Peppers
Six green peppers from which stem ends and seeds have been removed. Scald in water to cover, over the simmering burner, from five to eight minutes. Drain ready to fill. Make filling from nicely boiled or steamed whole and blanched, season with salt, pepper and butter. Or from "left overs," if at hand; one and one-half cupfuls of rice, three-fourths of a cup of minced lamb, veal or chicken is used. Tomatoes may be stuffed with one-half cup of stewed and strained tomatoes; and one teaspoon grated onion pulp. Mix ingredients, fill peppers two-thirds and finish each with buttered bread crumbs. Put closely together in a deep baking dish, with one-half cup of stock or water in the dish. Cover for first ten minutes in the oven, and bake fifteen minutes longer uncovered. A very rare vegetable entree when minced lamb, veal or chicken is used. Tomatoes may be stuffed with the same mixture, substituting chopped pepper for tomato or using peppers with the plain rice.