PASTA - Блюда из макарон
---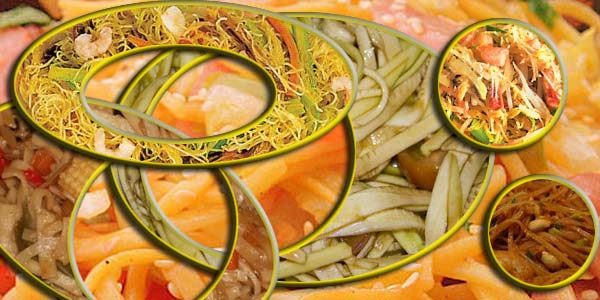 Fettucini Romano Ala Fratelli
1 Tablespoon Olive oil
3 Cloves garlic, crushed
1/2 Cup White wine
3/4 Cup Half-and-half
1 Cup Romano cheese, grated
1 pound dry spinach fettucini, Cooked
Chopped parsley for garnish
Add the olive oil to a hot 10" pan. Add the garlic, and saute over high heat for about 1 minute. Add the wine and simmer for about 2 minutes. Add the half-and-half, and allow the sauce to come back to the simmer. Add the Romano cheese, and stir until smooth, about 2 minutes.
To serve: Add the pasta to the pan and toss until coated. Portion onto two plates, and garnish with some chopped parsley.

Manicotti ( tubular pasta shells that may be stuffed with ricotta or a meat mixture ; also : a dish of stuffed manicotti usually with tomato sauce)
1 lb. ricotta cheese
1 1/2 lbs. mozzarella cheese (grated), divided
1/4 cup romano cheese (grated)
Salt and pepper
1/4 cup provolone cheese (grated)
Parsley (chopped)
3 eggs
2-3 cups tomato sauce
Combine all ingredients together, except tomato sauce. Mix well. (Use 1 lb. mozzarella cheese)
Spread some tomato sauce on the bottom of a baking pan. Stuff manicotti shells and place in pan. Spread more tomato sauce in between each layer and on the top, followed by 1/2 lb. of just mozzarella cheese.
Bake at 350 degrees F for 3/4 hour. Then, broil for 2-3 minutes to brown top.

Pasta Alla Caruso
2 Tbs. Olive Oil
1 Cup Flour, seasoned with a pinch of salt & freshly ground black pepper
1 Lb. Chicken Livers, separated into individual lobes,
all visible fat removed
2 Tbs. Unsalted Butter
1 Lb. assorted mushrooms, Shiitake (stems removed), Portobello, Crimini,
White button, sliced thinly
1 Cup dry red wine
1 28 Oz. Can, peeled Tomatoes
2 Tbs. Flat-leafed Italian Parsley, finely chopped
Salt & freshly ground black pepper
1 Lb. Spaghetti or Perciatelli
Heat a saute pan over high heat, then add the olive oil. Flour the chicken livers, shaking off any excess and add to the pan. Saute until they are slightly browned and firm. Remove livers and set aside. Pour off the olive oil, then add the two tablespoons of butter. When the butter has foamed and the foam begins to subside, add the mushrooms, tossing to coat with the butter. Cook for four or five minutes, until the mushrooms begin to give off some of their juices. Add the wine all at once, scraping the bottom of the pan to loosen any caramelized bits of liver and mushroom from the bottom.
Continue, cooking over high heat until the wine has reduced by about half. Lower the heat, puree the tomatoes through a food mill, or in a food processor, then add to the mushrooms and wine. Adjust the heat so the mixture barely simmers. Slice the chicken livers crosswise into half-inch rounds and add them, with any of their accumulated juices, to the tomato sauce. Taste for seasoning, add salt and pepper if necessary, then cook over low heat for about thirty minutes, or until the extraneous juices have evaporated. In the meantime, bring a large pot with about six quarts of water to a boil. Add the pasta and cook until al dente. Drain the pasta, divide into four plates, top with the sauce, garnish with the chopped parsley.

Pasta Dough
8 eggs
2 tsp. salt
4 cups all purpose flour
In a large bowl, combine eggs & salt. Beat well. Add flour, 1 cup at a time until dough sticks together but is still soft.
Spread flour on a board, knead dough for 15-20 minutes. Cover and let stand in a warm place for about 1 hour.
Knead for another 5 minutes. Flatten small amounts of dough to form a 2" x 2" square. Coat square in flour and repeatedly run through pasta machine until desired thickness is obtained, or use rolling pin.
Cut paste shape using pasta machine or slice desired shape by hand.
Lay out cut pasta on table covered with a table cloth until dry. Pack in plastic bags and store in a cool place.
Cook pasta in boiling salted water until tender. Homemade pasta usually takes less time to cook. Top with your favorite sauce.

Pasta E Fagioli
1/4 cup extra virgin olive oil
6 cloves garlic, minced
1 can (6 ounces) tomato paste
2 cans (15 ounces each) cannellini beans, undrained
2 teaspoons dry basil leaves
3-4 cups boiling water, divided usage
2 cups beef broth
1/3 cup dry red wine
12 ounces ditalini, elbow macaroni, or any short tubular pasta
Salt and pepper to taste
Parmesan cheese, freshly grated
Chopped fresh basil leaves, optional
1. Place olive oil and garlic in a large saucepot (6 quart). Cook over medium heat just until golden. Add tomato paste and cook 3-4 minutes stirring occasionally.
2. Puree 1 can of beans in food processor or blender; add to saucepot with remaining beans. Cook 2 minutes; stir in basil. Add 2 cups boiling water, broth, wine, salt and pepper. Increase heat and bring to a boil, stirring occasionally, about 5 minutes. Add pasta. Cook about 8 minutes or until al dente, adding remaining hot water, if needed and stirring occasionally.
3. Serve hot topped with Parmesan and fresh basil, if desired.

Cavatelli Sausage With Broccoli
1/2 lb. or 2 cups dried Cavatelli or other small
shell-shaped Italian pasta
1/2 lb. or 3 links sweet Italian Sausage
2 cloves garlic, minced
1 bunch broccoli
1 1/4 cup low-salt chicken broth
1/4 cup raisins
1 tbls. unsalted butter
Parmesan cheese
Squeeze sausage from casings and saute in a heavy skillet or cast iron frying pan. Stir until no longer pink and sausage has broken down into small chunks. Remove sausage with slotted spoon leaving juices in pan. Cut broccoli into 1 inch pieces and saute in juices or drippings from the sausage. Stir gently til it begins to brown. Add garlic and saute 1 minute more. Add broth and raisins and simmer until the broccoli is tender, about 3 minutes. Do not over cook. Finally, add butter and stir to melt. Add, with sausage, to cooked pasta and serve with parmesan cheese.

Angel Hair With Balsamic Tomatoes
1 teaspoon minced garlic
1 teaspoon olive oil
5 to 6 Roma tomatoes, chopped, (28-ounce. can plum tomatoes)
3 tablespoons balsamic vinegar
salt & pepper to taste
1/4 Cup chopped fresh basil
1/2 Pound angel hair pasta, (uncooked)
Saute the garlic in olive oil until lightly browned. Do this in a skillet large enough to hold the tomatoes later. Leave garlic in skillet. Place tomatoes, salt & pepper, basil and balsamic vinegar in a non-reactive bowl and set aside for 10 minutes, stirring occassionally.
Boil water for pasta.
Just before you put the pasta in the water, drain tomatoes and reserve the juice that runs off. (I usually set my colander on a dinner plate). Put the angel hair pasta in the water to cook for the recommended amount of time. Heat your garlic skillet and toss drained tomatoes briefly JUST to heat. They should retain their shape. The pasta should finish cooking (usually no more than 5 minutes for angel hair) at the same time the tomatoes are ready.
Toss the pasta and tomato mixture together and serve with freshly grated parmesan cheese.

Carbonara Sauce
4 Tablespoon Butter
8 Slice Bacon; cut in 1/4" strips
2 Eggs
2 Egg yolks
1 Teaspoon Red pepper flakes
1 Cup Parmesan cheese
1/2 Cup Heavy cream
1 Teaspoon Salt
Black pepper
1 Pound Spaghetti
8 Quarts water
Cream soft butter. In another bowl, beat eggs & yolks and whisk until blended, add 1/2 cup cheese. Heat large casserole dish in 200F oven. Bring water & salt to boil in large pot. Meanwhile, fry bacon in skillet over med heat until crisp. Pour off half of fat and stir in red pepper flakes and cream. Bring cream mixture to simmer and keep warm until spaghetti is done. Transfer cooked spaghetti to heated serving bowl and stir in creamed butter. Coat well. Stir in hot bacon & cream mixture and finally the beaten eggs and cheese. The heat of the pasta will cook the raw eggs. Taste and season with salt and pepper. Serve with remaining grated cheese.

Italian Tomato Sauce
2 - 28 ounce cans diced or ground tomatoes or whole tomatoes NOT packed in puree or sauce
3 tablespoons high-quality olive oil
1 large, thick pork chop or 1-1/2 pounds beef chuck, steak preferred
1 medium onion, peeled and finely chopped
1 medium carrot, peeled and finely chopped
4 garlic cloves, peeled and crushed
1/2 cup red wine
1-1/2 teaspoons salt
3 tablespoons fresh basil or Italian parsley, chopped Freshly ground black pepper to taste
If using whole tomatoes, drain them, reserving the liquid and chop. Reserve tomatoes and juice in a bowl.
In a nonreactive Dutch oven, heat the olive oil. Season the chop with salt and pepper and brown over medium-high heat on both sides, about 8 minutes total. Remove meat and set aside. Reduce heat to medium-low, add the onion and carrot and saute until softened, 8 to 10 minutes. Add the garlic and saute for 1 minute. Return the meat and any accumulated juices to the pot and add the wine. Bring to a simmer, and cook uncovered for 3 minutes.
Add the reserved tomatoes (if using crushed or minced tomatoes, just add them directly from the can) and the salt and bring back to a simmer. Reduce heat to low to maintain a slow simmer, partially cover, and cook until the meat is tender, about 45 to 55 minutes, depending on the thickness of the meat. Remove meat and keep warm. Raise heat to medium and continue cooking sauce for about 5 minutes, or until sauce has thickened.
Stir in the basil and/or parsley and add freshly ground black pepper to taste (the sauce will be salty at this point; it will taste fine once added to pasta). Slice the meat and serve with pasta and sauce.

Baked Macaroni, Cheese & Spinach
1 pound elbow macaroni
15 oz. low fat ricotta cheese
1 3/4 cups skim milk
1/2 cup egg substitute
2 teaspoons brown mustard
1 -2 teaspoons Tabasco sauce
1/2 teaspoon salt
1/4 teaspoon ground pepper
2 cups shredded low fat cheddar cheese
2 cups torn fresh spinach leaves
1/4 cup grated Parmesan cheese
1/4 cup fine bread crumbs
1 teaspoon paprika
Preheat oven to 375F. Spray a 9 X 13 or 3 quart baking dish with nonstick spray oil. Cook macaroni according to package directions. Meanwhile, in a food processor or blender, mix ricotta cheese, milk, egg substitute, mustard, Tabasco sauce, salt and pepper. Process until smooth. Drain macaroni, return to pot and add shredded cheddar and spinach. Stir until cheese melts and spinach wilts. Stir in ricotta mixture and scrape into prepared baking dish. In a small bowl, combine Parmesan cheese, bread crumbs, and paprika. Sprinkle evenly over macaroni and cheese. Bake at 375F for 25 minutes. Serve hot.

Black Bean Lasagna
1 - 28 ounce jar tomato pasta sauce
1/2 cup water
2 cans (15 ounce) black beans, rinsed and drained
1 3/4 cups lowfat ricotta cheese
1 egg
12 uncooked lasagna noodles
2 1/2 cups shredded skim mozzarella cheese
Preheat oven to 375F. Over low heat, simmer tomato sauce, water, and black beans. Meanwhile, in a small bowl, combine ricotta cheese and egg. Set aside. Using a 9 X 13 inch baking dish, place 1 cup of the bean/sauce mixture on the bottom of the dish. Place 3 pieces of uncooked lasagna noodles on top of the sauce. Next, spread about 2/3 cup of the ricotta mixture over the noodles. Top with 1 cup of the bean/sauce mixture, lastly about 1/2 cup of the mozzarella.
Repeat two layers of noodles, ricotta, bean/sauce, and mozzarella. Then place on the remaining 3 lasagna noodles and pour the remaining bean/sauce mixture over all. Top with remaining mozzarella. Cover with foil and bake at 375F for 30 minutes. Remove foil and continue to bake another 15 minutes. Remove from oven and let stand for 15 minutes before cutting.

Cajun Style Pasta
12 ounces linguine
1 teaspoon butter or olive oil
2 garlic cloves, minced
8-12 medium size shrimp, peeled and deveined
1/2 pound chicken breast meat, diced
2 1/2 tablespoons all-purpose flour
2 cups of 1% milk
2 tablespoons sherry
1/4 cup grated Parmesan cheese
1/4 teaspoon cayenne
4 plum tomatoes, seeded and chopped
1/2 cup frozen peas
Salt and black pepper to taste
Prepare the linguine according to package directions. Drain and keep warm until ready to serve.
Melt the butter in the center of a large non-stick skillet over medium-high heat. Add the garlic and cook for 1 minute. Add the shrimp and chicken. Pan-fry until the chicken is cooked through, 3-4 minutes. Whisk the flour, milk, sherry, and Parmesan cheese together. Pour into the skillet and bring to a boil while stirring. Reduce heat to medium and continue to cook for about 5 minutes until the mixture has thickened, stirring occasionally. Add the cayenne and fold in the tomatoes and peas. Cook until heated through. Season to taste with salt and pepper. Arrange the linguine on individual plates and spoon the sauce over the top. Garnish with chopped fresh parsley.

Spaghetti Sauce
1 lb. extra lean ground beef
1 clove garlic, minced or put through garlic press
1 onion, chopped fine
1/2 green pepper, chopped fine
1/2 cup sliced mushrooms
2 cups chopped fresh tomatoes with juice,
or 16 oz. can diced tomatoes
1 6 oz. can tomato paste
1 tsp. sugar
1 bouillon cube
1 tsp. basil
1 tsp. oregano
1/2 tsp. salt
Crumble and brown ground beef. Drain off all fat; wipe out frying pan. Turn beef into colander, and rinse with cold water. Pat dry with paper towel; return to pan.
Add garlic, onion, pepper, mushrooms and cook over medium low heat, stirring as necessary until veggies are soft. Add tomatoes and tomato paste. Add seasonings and simmer until hot throughout. Adjust seasonings to taste and serve over pasta with low fat Parmesan sprinkled over.

Three Cheese Baked Ziti
15 ozs. fat-free cottage cheese
2 whole eggs, slightly beaten
1/4 cup fat-free parmesan cheese
16 ozs. ziti pasta, cooked and drained
1 teaspoon salt
26 ozs. spaghetti sauce (low fat)
1 cup low-fat mozzarella cheese, shredded
Preheat oven to 350. Prepare a 13 x 9" pan with cooking spray; set aside. In a mixing bowl, combine cottage cheese, eggs, and parmesan cheese; set aside. In another mixing bowl, combine cooked pasta, pasta sauce, and salt. Spoon half of the pasta mixture into prepared pan; evenly top with cheese mixture, then remaining pasta mixture. Sprinkle with mozzarella cheese. Bake for 30 minutes, or until heated through.

Antipasto Pasta Salad
1 pound shell, bowtie or elbow macaroni pasta
1/4 pound Genoa salami, chopped
1/4 pound pepperoni, chopped
1/2 pound Asiago or Italian sharp cheese, diced
1 (6 ounce) can black olives, drained and chopped
1 red bell pepper, diced
1 green bell pepper, diced
3 ripe tomatoes, chopped
1 (.6 ounce) Italian dressing mix (Good Seasons)
3/4 cup extra virgin olive oil
1/4 cup balsamic vinegar
2 tablespoons dried oregano
1 tablespoon dried parsley
1 tablespoon grated Parmesan cheese
salt
ground black pepper
Cook the pasta in a large pot of salted boiling water until al dente. Drain and cool under cold water. In a large bowl, combine the pasta, salami, pepperoni, cheese, black olives, red bell pepper, green bell pepper and tomatoes. Sprinkle on the envelope of powdered dressing, mix thoroughly and refrigerate salad. To prepare the dressing, whisk together the olive oil, balsamic vinegar, oregano, parsley, parmesan cheese, salt and pepper. Just before serving, pour dressing over the salad and mix well.

Chicken Pasta Salad
2 boneless chicken breasts
3/4 cup steak sauce
1 (12 ounce) package fussili or bowtie pasta
2 chicken bouillon cubes
1 medium Vidalia onion, diced
2 avocados, peeled and diced
1 cup halved cherry tomatoes
1 cup blue cheese or ranch salad dressing
Marinate chicken breasts in steak sauce for 15 to 60 minutes. Grill until done and chop into bite-size pieces.
In a large pot of boiling water, add the bouillon cubes and cook pasta until al dente. Drain and rinse under cold water. In a large bowl, combine chicken, pasta, onion, avocados and tomatoes. Add salad dressing, mix and refrigerate until chilled. Stir in additional salad dressing when ready to serve, if desired.

Turkey Macaroni Salad
8 ounces fusilli pasta, uncooked
1 cup mayonnaise
1 cup yogurt
1/4 cup chopped green onions
1 teaspoon salt
1/8 teaspoon ground white pepper
3 cups (1 pound) cubed, cooked turkey
1 cup chopped celery
Cook pasta according to package directions. Drain, rinse with cold water, and drain again.
In a large bowl, combine mayonnaise, yogurt, onions, salt, and white pepper. Gently stir in turkey, pasta, and celery.
Cover, and chill until serving time.

Mushroom Antipasto Pasta Salad
4 cups pasta, cold, cooked
2 cups white mushrooms, sliced
1 cup roasted red peppers, chopped
1 cup salami, cut into bite-size pieces
1 cup provolone cheese, cut into bite-size pieces
1 jar (6 ounces) marinated artichoke hearts, (with liquid)
1/4 cup Italian dressing
salt and pepper, to taste
1/2 cup chopped fresh basil
To the pasta, add the mushrooms, peppers, salami, cheese, and artichoke hearts with liquid. Mix in Italian dressing; season with salt and ground black pepper to taste. Top with chopped basil. Allow flavors to blend for at least 30 minutes before serving.

Classic tomato pasta
Serves 4

400g fresh tagliatelle
100g smoked streaky bacon
2 red chillies or 1 teaspoon chilli powder, optional
2 cloves garlic
1 onion
1 tablespoon olive oil
275 fresh passata
salt and black pepper
chopped fresh parsley

Cook the pasta in a large pan of boiling salted water until tender, following the packet instructions. Drain and keep warm.


Trim the rind from the bacon and chop finely. Halve the chillies, if using, and removed the seeds. Chop finely. Wash your hands thoroughly. Peel and chop the garlic and onion.
Add the oil to the pan and set over a medium heat. Fry the bacon gently until the fat begins to run. Add the garlic and onion and cook until slightly softened. Add the passata and the chillies or chilli powder. Simmer until slightly reduced. Season.
Return the pasta to the pan. Stir until thoroughly mixed and hot. Garnish with parsley and serve.

Cook's tip: After training the pasta, toss in a tablespoon of olive oil, the set aside. This stops the pasta sticking together.

Variation: use 225g sliced button mushrooms instead of the bacon. Sprinkle graed Parmesan on top to serve.

Serving tip: For a simple but satisfying meal, serve with fresh crusty bread rolls and a crisp green salad or green vegetables.