NOODLES - Лапша
---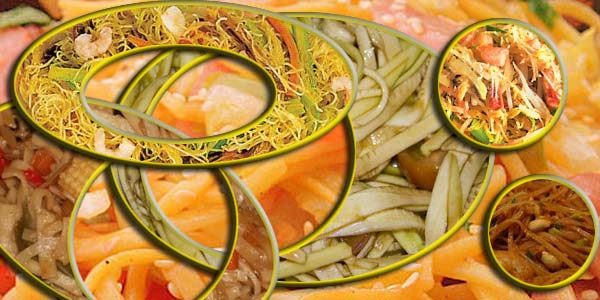 Look PASTA also
NOODLES
1 egg
l /2 teaspoon salt
Flour
Stir sufficient flour into a slightly beaten egg to make a very stiff dough. Add salt, knead, and roll as thin as possible. It should be of almost paperlike thinness. Cover with a towel and let remain untouched for half an hour. Then cut in small fancy shapes, and dry them. When needed, place in boiling water and cook rapidly for fifteen minutes. This dough may also be rolled into threads and used like macaroni in soup.
NOODLE BALLS
Roll the noodle paste as directed above, fold it double and with a tin cutter make circles about one- fourth inch in diameter. Toss these balls into hot fat, (360- 370 F.) using a wire frying-basket. In about a minute they will turn a delicate brown and puff into balls. Drain on soft paper and serve with soup. As these soften quickly, it is better not to put them in the tureen, but to pass them after the soup has been served.
Lo Mein
4 cups cooked Chinese noodles (or very thin spaghetti) rinsed and drained
12 oz. diced cooked meat (beef, chicken, pork ... any)
1 package frozen French-style green beans, thawed
2 cups fresh bean sprouts
3 scallions, chopped
1 slice ginger, shredded
1 clove garlic, minced
1 teas. MSG (Accent)
1 teas. sugar
1/4 cup soy sauce
3/4 cup vegetable oil
1/4 teas. sesame oil
2 Tbls. sherry
Mix together MSG, sugar, and soy sauce. Set aside. Heat wok or pan hot and dry. Add just 3 tablespoons of the vegetable oil and all the sesame oil. Put in ginger and garlic to brown first, then all the other vegetables. Stir and cook for one minute over high heat. Add the sherry. Cover and cook one minute longer. Turn off heat. Remove vegetables, and drain; discard these juices. Set drained vegetables aside. Heat wok or pan dry again. Put in remainder of oil. Turn heat to medium. Add cooked noodles and stir constantly to heat through and to coat the noodles with oil for a couple minutes. Add your choice of meat and reserved vegetables; mix thoroughly. Add reserved soy sauce mixture and stir until noodles become one even color. Serve.
Fried Won Tons (filled pockets of noodle dough)
1 lb. Won ton skins
1/2 lb. Fresh ground pork
1/2 lb. Fresh prawns
4 Dried mushrooms, soaked for 2 hours
8 Water chestnuts, finely chopped
2 Stalks green onions, finely chopped
2 small Eggs, beaten
1/4 ts Pepper
1 1/2 ts Salt
Yield: About 60 to 70.
Shell and devein prawns. Mince fine. Stem mushrooms and mince caps. Mix with prawns, pork, water chestnuts, green onions, half of the beaten eggs and all of the seasonings.
WRAPPING:
Place won ton squares on working surface so corners face up, down, left and right. Place 1 teaspoon filling in the center of each skin. Dip a little of the beaten egg onto the bottom corner, bring top corner to meet bottom corner. Press to seal. Moisten left corner and bring right corner to meet it. Press to seal. This should give you a little bundle that looks kind of like a nurses hat.
FRYING:
Heat 4 cups oil in wok. Fry wrapped won ton until golden (about 2 minutes). Turn over once. Drain and serve hot.
Corn Noodles
1 -12 ounce package yolk-free egg noodles
2 teaspoons olive oil
2 medium onions, chopped
3 cups diced fresh tomatoes
1/4 cup vegetable stock or water
1/4 cup chopped parsley
3 cups fresh corn kernels
Salt and Pepper to taste
Cook the noodles in a large pot according to package directions. In a large skillet over medium heat, saute onions in olive oil until slightly brown, about 12 minutes.
Add nonstick spray oil during sauteing if necessary. Add tomatoes and stock or water; cover and simmer 3 to 4 minutes. Stir in parsley, corn, and cooked noodles; simmer until heated through, about 3 to 4 minutes more.
Season with salt and pepper.
Sesame Ginger Noodles
Dressing:
1/2 cup creamy peanut butter
3/4 cup chicken broth
1/4 cup soy sauce
2 tablespoons rice wine vinegar
1 tablespoon minced fresh ginger
1 tablespoon sesame oil
1 clove minced garlic
2 cups trimmed watercress
1 cucumber, peeled, halved lengthwise, seeded and thinly sliced
1/2 cup finely diced yellow pepper
1/2 cup finely diced red pepper
1/4 cup thinly sliced radishes
1/4 cup thinly sliced green onions
18 oz. linguini
Dressing: Puree all dressing ingredients in blender until smooth. Combine veggies in large bowl. Cook pasta according to directions; drain and rinse. Add to bowl with veggies. Toss with dressing.