HAM - Ветчина
---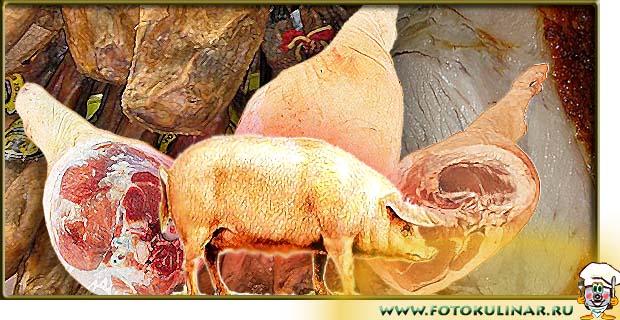 HAM PORTE MAILLOT
l / 4 cup cooking fat
l /2 clove garlic
1/2 cup dried Lima beans (cooked)
l /2 cup cauliflower
l /4 cup celery
l /2 cup carrots
2 leaves lettuce
1/4 cup onion
l/2 to 1/4 cup dry white wine
Baked ham
Originated by a restaurant just outside the Porte Maillot, one of the gates of Paris, this dish brings a new flavor to a baked ham. Cut the carrots, onion, garlic, celery, cauliflower and lettuce in long narrow shreds, Simmer them in the cooking fat but do not brown.
When cooked add the previously cooked Lima beans and the white wine. Cook together one minute and serve around a hot baked ham or as a sauce for left-over ham that has been reheated over steam.
Ham And Scalloped Potatoes
8 slices Of ham
10 medium Potatoes, thinly sliced
1 cup Grated Cheddar
2 Onions, thinly sliced
1 can Cream of mushroom soup
Paprika
Salt and pepper to taste
Toss sliced potatoes in 1/2 teaspoon cream of tartar and 1 cup water. Drain. Put half of ham, potatoes, and onions in crockpot. Sprinkle with salt and pepper, then grated cheese. Repeat with remaining half. Spoon undiluted soup over top. Sprinkle with paprika. Cover and cook on low 8 to 10 hours. (High: 4 hours).
Porkettes
1 pound ground fully cooked low-fat ham
1 egg
1/4 cup sweet pickle relish
1 teaspoon prepared mustard
2 cups mashed cooked sweet potatoes
1 teaspoon grated orange peel
1/8 teaspoon pepper
8 turkey bacon strips, halved lengthwise
1 can (20 ounces) pineapple slices, drained and halved horizontally
In a bowl, combine the ham, egg, relish and mustard. Shape into eight patties the same diameter as the pineapple rings. Combine the sweet potatoes, orange peel and pepper. Shape into eight patties the same diameter as pineapple rings. On a 15-in. x 10-in. x 1-in. baking sheet coated with nonstick cooking spray, assemble in the following order: Cross 2 strips of bacon, 1 pineapple slice, 1 ham patty, 1 sweet potato patty and 1 pineapple slice. Fold bacon ends up and over top; secure with a toothpick. Bake at 350F for 50-55 minutes or until bacon is crisp. Remove toothpicks; serve immediately.
Ham Salad with Hot Peanut Dressing
3/4 pound boneless ham
2 tablespoons vegetable oil
1/4 cup peanut butter
3 tablespoons fresh lime juice
1 tablespoon reduced-sodium soy sauce
1 teaspoon ground ginger
1 clove garlic, minced
1 tablespoon sugar
1 medium cucumber, seeded and thinly sliced
1/2 red onion, thinly sliced
6 cups romaine or curly endive, torn
1 head radiccio or Boston lettuce
Thinly slice ham and heat briefly in microwave or in skillet over medium heat. Set aside and keep warm. For dressing, combine vegetable oil, peanut butter, lime juice, soy sauce, ginger, garlic and sugar in a blender or food processor; blend well.
Heat dressing in microwave in glass measuring cup or on stovetop in a small saucepan. Toss cucumber, red onion, romaine and endive together.
Arrange salads on individual salad plates as follows: Line plates with radiccio or Boston lettuce, top with tossed vegetables, arrange ham slices atop and spoon over hot dressing.