EGGPLANT - Баклажан
---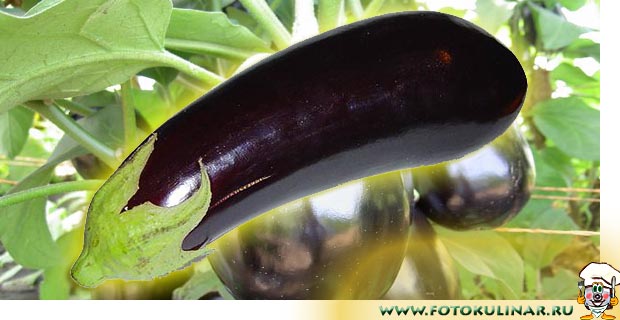 Eggplant Parmigiana
2 Small Eggplants; unpeeled cut into 1/4-inch rounds
2 Eggs; lightly beaten
1-1/2 Cup Bread crumbs
1/2 Teaspoon Salt
1/8 Teaspoon Pepper
1 Garlic cloves peeled and halved
3/4 Cup Olive oil
20 Ounce Tomatoes, canned
1/3 Cup Tomato paste
2 Tablespoon Minced basil
1 Teaspoon Salt
1/8 Teaspoon Pepper
1 Cup Grated Parmesan cheese
1/2 Pound Mozzarella cheese; thinly sliced
Dip eggplant slices in eggs, then in bread crumbs seasoned with salt and pepper. Refrigerate 20 minutes. In a large saucepan, saute garlic in 2 tablespoons oil for 1-2 minutes. Remove garlic and add tomatoes, tomato paste, basil, salt and pepper. Cover and simmer 30 minutes. Preheat oven to 350F. Brown eggplant in 1/4-inch oil in a large skillet. Drain on paper towels. Put a thin layer of tomato sauce into a baking dish and layer eggplant, sauce, Parmesan and mozzarella, alternately. End with mozzarella on top. Bake, uncovered, for 30 minutes.
Caponata
2 LARGE EGGPLANTS
1 Teaspoon SALT
3/4 Cup OLIVE OIL
2 CLOVES GARLIC, CRUSHED
2 ONIONS, CHOPPED
1 Pound PLUM TOMATOES, Quartered
3 CELERY STALKS, DICED
1 Pound CAN PITTED BLACK OLIVES
12 Ounce JAR OLIVE SALAD
1/4 Cup CAPERS
1/2 Cup PINE NUTS
1/4 Cup RED WINE VINEGAR
2 Teaspoon SUGAR
SALT AND PEPPER TO TASTE
Wash and cube unpeeled eggplant. Salt and let stand 1 hour. Squeeze dry. Saute in oil until soft. Remove. Saute onions and garlic in same oil. Add tomatoes, olives, and celery. Cook until tender--15 minutes. Add eggplant, capers, and pine nuts. In another pan heat vinegar and sugar. When dissolved, pour over eggplant. Season to taste and cook an additional 20 minutes. Serve hot or cold as relish with dinner or with french bread rounds as a buffet or cocktail dish.
Smoked Eggplant and Yogurt
1 medium eggplant, peeled and chopped
1/2 cup lightly salted water
1 1/2 cups plain regular or low-fat yogurt
1 small bunch green onions, diced
1/2 bunch cilantro, diced
1 teaspoon ground black pepper
salt to taste
1/4 teaspoon paprika
1 piece charcoal
1 - 5x5 inch piece aluminum foil
1 tablespoon margarine or shortening
In a pot over medium heat, add the eggplant and water; cook until tender and the water evaporates. Mash the eggplant so no large chunks remain. Allow to cool completely.
In a large bowl, add the yogurt, mashed eggplant, green onions, cilantro, pepper and salt; mix well.
To smoke the salad, heat the charcoal over open flame until gray and reddish in color. Place the piece of foil in the eggplant salad (make room in the center for the foil). Place the hot charcoal on the piece of foil in the bowl. Add the margarine on top of the charcoal and cover salad bowl immediately. Allow to smoke for 10 minutes; remove charcoal.
Chill the salad in the refrigerator and garnish with fresh chopped cilantro and a sprinkle of paprika.
Fried Egg Plant
Wipe the egg plant, cut in one-quarter-inch slices, soak in salted cold water one hour. Dip each slice in beaten egg and fry in butter until inside is very soft, outside brown.