CRAYFISH - Раки
---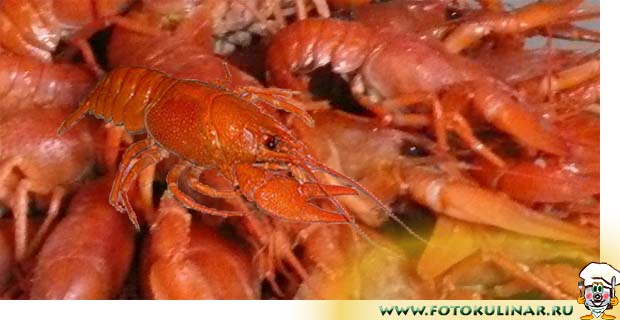 Fresh- Water Crawfish, or crayfish, look like lobsters, but are much smaller. They may be prepared and served in the same way as lobsters.
Cook the crawfish in boiling salted water, drain, and remove the shell. Take out the intestines by pinching the extreme end of the center fin and jerking it suddenly. This removes the gall-cyst, which is very bitter.
Crayfish Boiled in Court Bouillon.
Put some butter in a stewpan, and add a little celery root, onion and leek, all finely minced, place the pan on a moderate fire and fry them. Then add a little white wine, salt, a small bunch of parsley, and a few peppercorns. Boil for seven or eight minutes, and then throw in twenty-five live crayfish; cover over the pan and boil for eight minutes longer. Toss them in the pan a little, remove, place on a strainer to drain, and then on a dish. Strain the liquid, reduce it by boiling to half its original quantity, add a small piece of butter, and pour it over.
Crayfish, Bordelaise Style.
Place two dozen selected crayfish in a pan with water and a little milk mixed, and allow them to soak for two or three hours; then remove them and place on a strainer to drain. In the meantime make a good mirepoix of vegetables with Bordeaux wine, and add to the liquor a bunch of parsley, a slice of raw ham, one small wineglassful of cognac, two or three tablespoonfuls of Madeira and a little salt. Put the lid on the stewpan, place it on the fire, and let boil five or seven minutes; when it. is boiling hot throw in the crayfish, and leave for ten minutes, after which pour the liquor through a sieve; reduce it to half, adding slowly one pint of veloute sauce. When sufficiently reduced strain it through a cloth into another pan, and stir in one- fourth pound of good butter, a small piece of crayfish butter, and one tablespoonful of finely chopped parsley. Remove the small claws, put them in a group in the center of the dish, and arrange the bodies round, garnishing all with a few sprigs of parsley. The sauce must be served separately.
Crayfish Mariniere.
Remove the small claws from a dozen or two of crayfish, place them in a stewpan, and boil with wine until done. Drain off the liquor, allow it to settle, and then pass it through a fine sieve to clarify it. Take an onion, chop it up finely, and fry gently so that it does not color at all. Pour on a little of the crayfish liquor and also a little wine, and boil for three minutes. Next put in a lump of butter worked into some breadcrumbs and finely-chopped parsley to thicken it, and finally add a little cayenne and the juice of a lemon. Place the crayfish on a dish and pour the sauce over.
Crayfish Patties.
Place two dozen crayfish into a stewpan with a little salt, a few peppercorns, some finely chopped vegetables, a bunch of parsley and a little vinegar or white wine ; cover over the pan, place it on a good fire and when the fish have cooled a little remove the meat from the tails and claws and cut it up into small pieces, placing them in a small stewpan and thickening with a little white sauce. When wanted for serving fill a dozen or so of (bouchees) patties with the preparation and garnish with lobster coral and parsley.
Timbale of Crayfish.
In order to have this dish sufficient for a large party a great number of crayfish are required for it. Having picked out the tails of something like one hundred and fifty crayfish, brush each "one over with some warmed crayfish butter. Have ready some very c'vear savoury jelly and a large timbale mould ; warm the jelly to the liquid state, pick up each tail with a larding needle and dip into the jelly ; then arrange them neatly around the mould ; the jelly will cause them to adhere. When the top is reached (remember the mound will be upside down and should be packed in ice) leave the jelly fixing the tails to set. Pick out all the meat from the claws and bodies and chop up very finely ; mix this mince with enough warm jelly to fill the timbale and leave that also to set. When the jelly is firm, dip the mould for an instant in tepid water, wipe it and then turn the timbale out on to a dish. Garnish with croutons of jelly and an attelette decorated with truffles.