CHICKEN - Цыпленок
---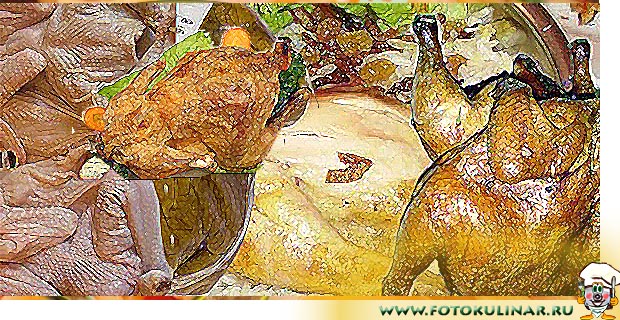 Baked Chicken
Take a plump chicken, dress and lay in cold salt water for half hour, put in pan, stuff and sprinkle with salt and pepper ; lay a few slices of fat pork. Cover and bake until tender, with a steady fire. Baste often. Turn so as to have uniform heat.

Boiled Chicken
Clean, wash and stuff as for roasting. Baste a floured cloth around each, and put into a pot with enough boiling water to cover them well. The hot water cooks the skin at once, and prevents the escape of the juices. The broth will not be so rich as if the fowls are put on in cold water, but this is proof that the meat will be more nutritious and better flavored. Stew very slowly, for the first half hour especially. Boil an hour or more, guiding yourself by size and toughness. Serve with egg or bread sauce.

Chicken Fricassee
Clean and disjoint chicken. Wipe each piece. Put in pot, cover with boiling water and simmer till tender. To the liquor add one cup or more hot milk, thicken with Sperry flour dissolved in cold water. Season well, boil up for a few minutes. Serve with dumplings or biscuit.

Fried Chicken
A chicken for frying should be very young, but if there are doubts as to its age, before cutting it up parboil it for ten minutes in water that has been slightly salted. Sprinkle with salt and pepper and roll them in Sperry flour. Fry in plenty of butter till done. It takes twenty minutes to fry them. Put the chicken on a platter, make a gravy by turning off some of the fat and adding a cup of milk that has been thickened with a tablespoon of Sperry flour. Pour this gravy over it. Or the gravy can be omitted and the platter can be garnished with crisp lettuce leaves.

Chicken Croquettes
Cut up fine any kind of cold fowl, season with salt, pepper and butter, a little onion, stir in two fresh eggs. Make in cakes, dip in beaten egg, then in cracker crumbs and fry in boiling lard or lard and butter mixed.

Fried Spring Chicken
Clean and disjoint, then soak in salt water for about two hours. Put in frying pan equal parts of lard and butter, enough to cover chicken. Roll each piece in Sperry flour, dip in beaten egg, then roll in cracker crumbs, and drop into boiling fat. Fry until browned on both sides. Serve on flat platter garnished with sprigs of parsley. Pour most of the fat from frying pan, thicken remainder with browned flour, add to it cup of boiling water or milk. Serve in gravy bowl.

Chicken Pie
Disjoint fowl and simmer in boiling water until tender. Season to taste, and lay in deep baking dish. Mix two level tablespoonfuls corn starch with two level tablespoonfuls of Sperry flour, add four tablespoonfuls cream and three cups hot chicken stock, stir till it thickens. Pour over chicken and cover with crust. Sift into mixing bowl one cup Sperry flour, one-quarter cup corn starch, two and one-half teaspoonfuls Baking Powder, one-quarter teaspoonful salt; rub in finely 1 tablespoonful each of butter. Add milk to make dough enough as soft as may be handled. Roll out little larger than top of dish, so that crust may be placed on loosely. Pierce small openings in crust, and bake until crust is well done. Send to table in baking dish.

Boiled Chicken Royal Style
Truss chicken and tie strips of bacon over the breast. Put into a kettle, cover with boiling water, season with salt and pepper, cover close and cook slowly until tender. Remove from water, drain, rub with mixture of creamed butter and Sperry flour and brown in the oven. Cool the liquor quickly and remove the fat, then reheat. To each pint of liqour allow one rounding tablespoonful corn starch. Blend the corn starch in a little cold water, pour into the hot liquor and boil ten minutes. Then add one-half cup chopped mushrooms. When gravy is perfectly done, remove from fire, and to one pint of gravy add yolk of one egg, slightly beaten. Do not cook again after the yolk has been added, or it may curdle. Serve gravy in boat.

Broiled Chicken
Singe, split down backbone, and clean. Grease broiler, place chicken on it, crossing legs and turning wings. Rub inside and out with soft butter, and season. Have fire clear and hot. Cook flesh side first, holding up well that it may not brown too quickly. Should cook in about twenty or twenty-five minutes, then turn and brown skin side.

Chicken a la Creole
Cut a boiled chicken into cubes of an inch. Put a tablespoonful of butter and one of grated onion in a frying pan, add half a cupful of tomato and three sweet peppers cut into strips. Add the chicken, a teaspoonful of salt and a dash of red pepper. Cover, serve hot.

Cream Chicken
Boil a four pound chicken and four sweetbreads and set aside to cool. When cold cut in small pieces. In the meantime, or when ready to serve, put in double boiler five tablespoonfuls Sperry flour, four of butter and stir together, slowly add, stirring all the time, quart of cream. Season with salt, black pepper and cayenne pepper, few drops of tabasco. Into this stir the chicken and sweetbreads and one can of mushrooms cut in half; heat thoroughly and serve in patty cases.

Chicken Southern Style
Wash your chicken thoroughly in soda and water. Dry and disjoint. Put one and one-half cups of cold water in a porcelain pot (Dutch oven preferred) ; pack chicken in closely. Mince two small onions, one kernel garlic, little parsley and sprinkle over chicken. Cover closely and let simmer for three hours. One-half hour before done season with salt and pepper. Don't lift cover during the cooking. When done remove chicken and thicken gravy with a little Sperry flour.

CHICKEN SOUP
This recipe provides a large bowl of substantial soup, as well as a cooked fowl, and when the soup is served the rest of the dinner should consist of light dishes. For more economical recipes see Index for chicken or turkey bone soup, and chicken broth for invalids.
1 fowl (3 to 4 pounds)
1 cup milk
l/2 pound ham
1 tablespoon chopped parsley
1 onion
Salt and pepper
2 to 3 quarts water
1 tablespoon flour
1/4 cup rice
1 tablespoon chicken fat
Cut up fowl into quarters, with the ham and onion, and add the water. Let this simmer until the meat is very tender, then strain, reserving the meat to be used in any way desired. Re- move all possible fat, and to one and one-fourth quarts of this soup (the remainder can be used for sauce with the meat) add well washed rice, chopped parsley, salt and pepper. Simmer until the rice is tender, add milk, then add roux made of flour and chicken fat. Cook until the mixture is thickened (about five minutes), season and serve.

CHICKEN GUMBO
This recipe, if followed as given, will provide the main dish for dinner. Chicken gumbo may be made by using leftovers, or the remainder after making chicken salad or boned chicken.
1 fowl (3 to 4 pounds)
2 sprigs parsley
l/2 cup salt pork fat
3 cups boiling water
1 onion
l/2 teaspoon pepper
1 quart okra, fresh or canned
2 tablespoons salt
5 tomatoes
1 cup boiled rice
1 cup cream
This is a noted Southern soup. Cut the chicken into convenient pieces and saute until brown in salt pork fat, then place all the pieces in a saucepan. Cut a large onion into thin slices and saute slowly for ten minutes in the fat. Add okra, cut fine, sliced tomatoes, and parsley sprigs. Saute all of these ingredients one-half hour, quite slowly, and place them in the saucepan with the chicken. Add boiling water, pepper and salt. Simmer slowly two to four hours, or until the chicken is very tender, and then add boiled rice and cream. If more seasoning is needed, add it, and if necessary, thin with boiling water. Boil up once and serve. Cayenne pepper (one-fourth teaspoon) may be used instead of white or black pepper, if desired. Separate the bones from the chicken. Serve with pieces of chicken in the plate with the soup.

Cashew Chicken
3 Chicken breasts, boned and skinned
1/2 lb. Chinese pea pods
1/2 lb. Mushrooms
4 Green onions
2 cups Bamboo shoots, drained
1 cup Chicken broth
1/4 cup Soy sauce
2 tb Corn starch
1/2 ts Sugar
1/2 ts Salt
4 tb Salad oil
1 pack Cashew nuts (about 4-oz)
Slice breasts horizontally into very thin slices and cut into inch squares. Place on tray. Prepare vegetables, removing ends and strings from pea pods, slicing mushrooms, green part of onions, and the bamboo shoots. Add to tray. Mix soy sauce, cornstarch, sugar, and salt. Heat 1 tbls of oil in skillet over moderate heat, add all the nuts, and cook 1 min shaking the pan, toasting the nuts lightly. Remove and reserve. Pour remaining oil in pan, fry chicken quickly, turning often until it looks opaque. Lower heat to low. Add pea pods, mushrooms, and broth. Cover and cook slowly for 2 mins. Remove cover, add soy sauce mixture, bamboo shoots, and cook until thickened, stirring constantly. Simmer uncovered a bit more and add green onions and nuts and serve immediately.

Moo Goo Gai Pan
4 chicken breast halves, skinned, boned and sliced
salt and pepper
4 cloves garlic, minced
2 cups water
1 tb cornstarch
5 tb corn oil
8 oz. fresh mushrooms, sliced
4 lb. bok choy or Chinese white cabbage, chopped
2 tb sugar
4 tb soy sauce
6 scallions, chopped
1. In a bowl, toss chicken with the salt and pepper, garlic and cornstarch mixture. Set aside.
2. Heat 3 tablespoons of corn oil in a wok and stir in mushrooms, bok choy/cabbage and sugar for 2 minutes. Cover and cook for 5 minutes. Remove from wok.
3. Heat remaining corn oil in wok. Stir-fry chicken for 2 minutes over high heat. Add soy sauce and mix well. Cover and cook for about 6 minutes, or until the chicken is thoroughly cooked.
4. Mix in the cooked vegetables and scallions. Stir fry together for about 1 minute. Serve hot with rice.

General Tsao's Chicken
Sauce:
1/2 cup cornstarch
1/4 cup water
1+1/2 tsp minced garlic
1+1/2 tsp minced ginger root
3/4 cup sugar
1/2 cup soy sauce
1/4 cup white vinegar
1/4 cup cooking wine
1+1/2 cup hot chicken broth
1 tsp monosodium glutamate (optional)
Meat:
3 lbs deboned dark chicken meat, cut into large chunks
1/4 cup soy sauce
1 tsp white pepper
1 egg
1 cup cornstarch
Vegetable oil for deep-frying
2 cups sliced green onions
16 small dried hot peppers
Mix 1/2 cup cornstarch with water. Add garlic, ginger, sugar, 1/2 cup soy sauce, vinegar, wine, chicken broth and MSG (if desired). Stir until sugar dissolves. Refrigerate until needed.
In separate bowl, mix chicken, 1/4 cup soy sauce and white pepper. Stir in egg. Add 1 cup cornstarch and mix until chicken pieces are coated evenly. Add cup of vegetable oil to help separate chicken pieces. Divide chicken into small quantities and deep-fry at 350 degrees until crispy. Drain on paper towels.
Place a small amount of oil in wok and heat until wok is hot. Add onions and peppers and stir-fry briefly. Stir sauce and add to wok.
Place chicken in sauce and cook until sauce thickens.

Kung Pao Chicken
2 tablespoons oyster sauce
1 teaspoon cornstarch
3/4 pound boneless, skinless chicken
Sauce:
1/4 cup Chinese black vinegar or balsamic vinegar
1/4 cup chicken broth
3 tablespoons Chinese rice wine or dry sherry
2 tablespoons hoisin sauce
1 tablespoon soy sauce
2 teaspoons sesame oil
2 teaspoons chili garlic sauce
2 teaspoons sugar
2 1/2 tablespoons cooking oil
8 small dried red chilies
4 teaspoons minced garlic
2 stalks celery, diced
1/2 red bell pepper, cut into 1-inch squares
1 can (8 oz.) sliced bamboo shoots, drained
2 teaspoons cornstarch dissolved in 1 tablespoon water
1/3 cup roasted peanuts
1. Combine marinade ingredients in a bowl. Cut chicken into 1-inch pieces. Place chicken in marinade and stir to coat. Let stand for 10 minutes.
2. Combine sauce ingredients in a bowl.
3. Place a wok over high heat until hot. Add 2 tablespoons oil, swirling to coat sides. Add chilies and cook, stirring, until fragrant, about 10 seconds. Add chicken and stir-fry for 2 minutes. Remove chicken and chilies from wok.
4. Add remaining 1/2 tablespoon oil to wok, swirling to coat sides. Add garlic and cook, stirring, until fragrant, about 10 seconds. Add celery, bell pepper, and bamboo shoots; stir-fry for 1 1/2 minutes.
5. Return chicken and chilies to wok; stir-fry for 1 minute. Add sauce and bring to a boil. Add cornstarch solution and cook, stirring, until sauce boils and thickens. Add peanuts and stir to coat.

Empress Chicken Wings
1 1/2 pounds Chicken Wings
3 tablespoons Soy Sauce
1 tablespoon Dry Sherry
1 tablespoon Minced Fresh Ginger Root
1 Clove Garlic, Minced
2 tablespoons Vegetable Oil
1/3 cup Cornstarch
2/3 cup Water
2 Green Onions And Tops, Cut Into Thin Slices
1 teaspoon Slivered Fresh Ginger Root
Disjoint the chicken wings; discard tips (or save for stock). Combine soy sauce, sherry, minced ginger and garlic in a large bowl; stir in chicken. Cover and refrigerate for 1 hour, stirring occasionally. Remove chicken; reserve marinade. Heat oil in large skillet over medium heat. Lightly coat chicken pieces with cornstarch; add to skillet and brown slowly on all sides. Remove chicken; drain off fat. Stir water and reserved marinade into same skillet. Add chicken; sprinkle green onions and slivered ginger evenly over chicken. Cover and simmer for 5 minutes, or until chicken is tender.

Sesame Chicken
1 pound boneless chicken (or pork or steak)
2 tablespoons sesame seeds
1 tablespoon sesame oil
2 tablespoons vegetable oil
4 ounces small mushrooms, quartered
1 large green bell pepper, seeded and cut into strips
4 scallions, chopped diagonally
boiled rice, to serve
Marinade:
2 teaspoons cornstarch
2 tablespoons Chinese rice wine or dry sherry
1 tablespoon lemon juice
1 tablespoon soy sauce
few drops of Tabasco sauce
1-inch piece fresh ginger, grated
1 garlic clove, crushed
1. Trim the meat and cut into thin strips about 1/2 x 2 inch.
2. Make the marinade. In a bowl, blend the cornstarch with the rice wine or dry sherry, then stir in the lemon juice, soy sauce, Tabasco sauce, ginger and garlic. Stir in the strips, cover and leave in a cool place for 3-4 hours.
3. Place the sesame seeds in a wok or large frying pan and dry-fry over moderate heat, shaking the pan, until the seeds are golden. Set aside.
4. Heat the sesame and vegetable oils in the wok or frying pan. Drain the meat, reserving the marinade, and stir- fry a few pieces at a time until browned. Remove with a slotted spoon.
5. Add the mushrooms and green pepper and stir-fry for 2-3 minutes. Add the scallions and 1 minute more.
6. Return the meat to the wok or frying pan, together with the reserved marinade, and stir over a moderate heat for a further 2 minutes, or until the ingredients are evenly coated with glaze. Sprinkle the sesame seeds on top and serve immediately with boiled rice.

Garlic Chicken
4 boneless, skinless chicken breast halves (about 1 lb.)
1 egg white
1 Tablespoon cornstarch
1 Tablespoon dry white wine or sherry
4 green onions
1 teaspoon minced gingerroot
3 teaspoons minced fresh garlic (about 6 medium cloves)
2 Tablespoons vegetable oil
Hot cooked rice
SAUCE
1 teaspoon crushed chili paste (sambal oelek) or more to taste
2 teaspoons sugar
1 teaspoon cornstarch
2 teaspoons rice vinegar
1 Tablespoon water
2 Tablespoons dry white wine or sherry
2 Tablespoons soy sauce
Place chicken breasts in freezer for 1 to 2 hours or until very firm but not frozen solid. Slice crosswise into thin shreds. In small bowl, lightly beat egg white, then mix in 1 TBS cornstach and 1 TBS wine, stirring until cornstarch is dissolved. Add chicken and mix well to coat all pieces. Let stand at room temperature 30 minutes.
Meanwhile, slice green onions on the diagonal into very thin slices. Mince gingerroot and garlic. Combine Sauce ingredients, mixing well. Heat wok or frying pan, add oil, and stir-fry chicken until no longer pink. Remove chicken with a slotted spoon. Add onions, ginger and garlic to wok and stir-fry about 30 seconds, until ginger and garlic are fragrant but not brown. Return chicken to wok, restir sauce ingredients and add to wok. Cook, stirring constantly, until mixture is well combined, hot and bubbly and thickens slightly. Turn off heat and splash with about 1 tsp of dark sesame oil. Serve over rice.

Chicken Livers
1 pound Chicken livers
1/2 cup Flour
1 teaspoon Salt
1/4 teaspoon Pepper
3 Bacon slices, diced
3 Green onions, with tops, chopped
1 cup Chicken bouillon
1 can (10 1/2 oz.) Golden Mushroom soup
1 can Sliced mushrooms, 4-ounce (drained)
1/4 cup White wine — dry or sauterne
Cut chicken livers into bite-size pieces; toss in flour, salt and pepper. Fry bacon pieces in large skillet; remove when brown. Add flour-coated chicken livers and green onion to bacon grease in skillet; saute until lightly browned. Pour chicken bouillon into skiIlet and stir into drippings. Pour all into crockpot. Add browned bacon bits and all remaining ingredients. Cover and cook on Low 4 to 6 hours. Serve over rice, toast or buttered noodles.

Hawaiian Chicken Breasts
4 Green onions
3 Tablespoons Butter
4 Chicken breast halves
Flour seasoned with
salt and pepper
1 Can sliced pineapple, (14 Ounces)
1 Avocado
Rice; hot, buttered
Chop onions using only 1" of green tops. Saute in 1 T of butter until glazed. Transfer to crock pot. Coat chicken breasts in seasoned flour. Saute in butter until brown on both sides. Transfer to crock pot. Drain pineapple. Pour juice over chicken. Cover and cook on low 3-4 hours (high 1 1/2 - 2 hours) or until breasts are tender. Saute pineapple slices in butter until golden. Place on heated plater. Top each with a chicken breast. Slice avocado into 8 lengthwise strips. Place 2 strips on each chicken breast. Serve pan drippings over rice.
Italian Chicken
1 frying chicken, cut into pieces
1 teaspoon seasoned salt
1/4 cup flour
1/2 teaspoon salt
1/8 teaspoon pepper
2 tablespoons Parmesan cheese, grated
1/2 cup chicken stock
1 can mushrooms, drained
1/2 teaspoon paprika
zucchini, sliced into medium pieces
freshly ground black pepper
parsley to garnish
Sprinkle chicken with seasoned salt. Combine flour, salt, pepper, cheese, and paprika. Coat chicken pieces with mixture. Place zucchini in bottom of Crockpot. Pour stock over zucchini. Arrange chicken on top. Cover and cook on low for 6 to 8 hours or until tender. Turn control to high, add mushrooms, cover, and cook on high for another 10-15 minutes. Garnish with freshly ground black pepper and parsley.

Lemon Roast Chicken
Chicken whole
1 dash Salt
1 dash Pepper
1 teaspoon Oregano
2 Cloves minced garlic
2 tablespoons Butter
1/4 cup Water
3 tablespoons Lemon juice
Wash chicken,pat dry, season with salt and pepper. Sprinkle 1/2 oregano and garlic inside cavity. Melt butter in large frying pan. Brown chicken on all sides. Transfer to crock pot. Sprinkle with oregano and garlic. Add water to fry pan, stir to loosen brown bits. Pour into crock pot. Cover. Cook on LOW 8 hours. Add lemon juice in the last hour of cooking. Transfer chicken to cutting board. Skim fat. Pour juice into sauce bowl. Carve bird. Serve with some juice spooned over chicken.

Sweet & Sour Chicken
1 each Carrot, cut in pieces
1 each Green pepper, cut in pieces
1 each Onion, quartered
2 tablespoons Tapioca, quick-cooking
4 each chicken breast, cut
8 ounces pineapple chunks in juice, canned un
1/3 cup Dark brown sugar, firmly pa
1/3 cup Red wine vinegar
1 tablespoon Soy sauce
1 teaspoon Chicken bouillon, instant g
1/2 teaspoon Garlic powder
2 tablespoons ginger root, minced
1 teaspoon cilantro, dried
Fresh cilantro
Rice, hot cooked
Put vegetables.in bottom of crockpot. Sprinkle tapioca over vegetables. Place chicken on top of vegetables. Combine all other ingredients except rice in a small bowl. Pour over chicken. Cover crockpot and turn to low and cook for 8-10 hours. Before serving make rice. Serve over rice. Leftovers can be reheated in microwave.

Baked Chicken Breast with Fresh Basil
10 boneless skinless chicken breast (about 2 1/2 lbs.)
3/4 cup low-fat yogurt
1/2 chopped fresh basil
2 teaspoons cornstarch
1 cup bread crumbs
2 tablespoons grated Parmesan cheese
Arrange chicken in single layer in baking dish. Combine yogurt, basil and cornstarch; mix well and spread over chicken.
Combine bread crumbs with Parmesan and sprinkle over chicken. (If making in advance, cover and refrigerate for up to 6 hours.)
Bake chicken in 375 degrees oven for 30 minutes or until chicken is no longer pink inside.

Buffalo Chicken Strips
Blue Cheese Dip:
2/3 cup nonfat plain yogurt
2 tablespoons reduced-fat mayonnaise
2 ounces crumbled blue cheese
3 tablespoons finely chopped scallions
1/4 teaspoon coarsely ground black pepper
Chicken Strips and Celery Sticks:
1 teaspoon vegetable oil
1/2 pound skinless boneless chicken breasts, cut crosswise into
1/4-inch strips
1/4 teaspoon salt
2 teaspoons butter
1 tablespoon Frank's original hot sauce
5 celery stalks, cut into 3-inch sticks
In a small bowl, whisk together the yogurt, mayonnaise and blue cheese. Stir in the scallions and pepper and set aside while preparing the chicken. Cover and refrigerate.
Heat the oil in a large, preferably nonstick skillet. Season the chicken with the salt. Cook the chicken over medium-high heat, stirring frequently, until lightly browned and cooked through, 3 to 4 minutes. Remove the skillet from the heat. Add the butter and hot sauce to the pan and swirl until the butter barely melts and the sauce coats the chicken.
Serve the chicken and celery sticks along with the blue cheese dip. Provide toothpicks for spearing the chicken and dipping it in the sauce.

Chicken Cordon Bleu
4 Boneless, skinless chicken breasts
1/2 cup diced low fat boiled ham
1/2 cup shredded low fat Swiss cheese
1/8 teaspoon minced garlic
2 tablespoons white wine
salt/pepper to taste
8 oz. plain low fat yogurt
1 tablespoon milk
1 cup crushed seasoned bread crumbs
Combine ham, Swiss cheese, garlic, wine, salt and pepper in a bowl to make a filling.
Preheat oven to 350F. Rinse chicken with cold water and pat dry with paper towels. Cut a slit in the side of each breast to form a pocket.
Stuff each pocket with 1/4 of filling. Press to close or secure with wooden picks.
In a flat dish, combine yogurt and milk. Dip each breast in yogurt mixture; turn to coat well. Roll in bread crumbs and place in well-greased baking pan.
Bake at 350 for 45 minutes or until done. Serve with pasta and zucchini.

Chutney Chicken Salad
2 cups diced cooked chicken
1/4 cup mango chutney
1 small golden delicious or gala apple, cored and finely diced
1/4 cup finely diced celery
1/4 cup finely diced red onion
1/4 - 1/3 cup low-fat mayonnaise
Salt and pepper for seasoning
Mix all ingredients together. Season to taste with salt and pepper. Use as a sandwich filling or serve on top of a bed of greens.

Colorful Chicken Stew
1 lb. boneless skinless chicken breasts, cubed
1 (14 1/2 oz.) can Italian diced tomatoes, undrained
2 medium potatoes, peeled and cut into 1/2-inch cubes
5 medium carrots, chopped
3 celery ribs, chopped
1 large onion, chopped
1 medium green bell pepper, chopped
2 (4 oz.) cans mushroom stems and pieces, drained
2 low-sodium chicken bouillon cubes
Artificial Sweetener equal to 2 tsp. sugar
1 tsp. chili powder
1/4 teaspoon pepper
1 tablespoon cornstarch
2 cup cold water
In a 5-quart crockpot, combine the first 12 ingredients.
In a small bowl, combine cornstarch and water until smooth. Stir into chicken mixture. Cover and cook on LOW for 8 to 10 hours or until vegetables are tender.
Nutritional Analysis: One 1-cup serving equals: 123 calories,
209 mg sodium, 25 mg cholesterol, 16 gm carbohydrate, 11 gm protein, 1 gm fat, 3 gm fiber.
Diabetic Exchanges: 2 vegetables, 1 very lean meat, 1/2 starch.

Finger Lakes Chicken
2/3 cup fat-free mayonnaise
1 tablespoon salt
1/4 teaspoon ground black pepper
1 1/2 teaspoons poultry seasoning
1 cup distilled white vinegar
4 boneless chicken breasts
In a shallow glass bowl combine the mayonnaise, salt, pepper, poultry seasoning and vinegar. Mix together. Reserve 1/4 of the sauce for basting. Pierce chicken pieces with a fork and add to remaining sauce, tossing to coat. Cover and refrigerate for 2 to 4 hours to marinate.
Lightly oil grill and preheat to medium high. Remove chicken pieces from sauce/marinade and grill for 6 to 8 minutes on each side or until chicken is no longer pink and juices run clear. Baste with reserved sauce while grilling.

Greek Chicken
2 teaspoons olive oil
4 chicken breast halves on the bone, skin removed
1/2 medium onion, minced
2 cloves garlic, minced
1 - 14 1/2 ounce can cut-up tomatoes
1/2 teaspoon cinnamon
1/4 teaspoon cayenne pepper
Salt and black pepper to taste
1/2 cup Greek olives, cut in half and pitted
1 tablespoon lemon juice
1/4 cup minced parsley
In a large nonstick skillet, heat olive oil over medium heat. Brown chicken on both sides. Add onion and garlic; cook 2 minutes. Add tomatoes with their liquid to the pan with the cinnamon, cayenne, salt, pepper and olives. Simmer, covered, 15 minutes. Turn chicken and continue cooking 10-15 minutes, until chicken tests done. Remove chicken to a warm platter. Bring sauce to boil with lemon and parsley. Boil a few minutes until slightly thickened. Pour over chicken. Serve with rice or noodles.
Middle Eastern Roast Chicken
2 teaspoons dried orange peel or freshly grated orange zest
1 teaspoon garlic powder
1 teaspoon ground coriander
3/4 teaspoon ground cinnamon
1/2 teaspoon salt
1/4 teaspoon ground white pepper
1/8 teaspoon ground cardamom or cloves
1/8 teaspoon cayenne pepper
1-2 tablespoons canola or saffron oil
1 8-10 pound roasting chicken, capon or small turkey
Orange Scented Gravy
1-2 cups fat free and low sodium chicken broth
1/2 cup orange juice
3 tablespoons flour
1/3 cup Madeira
Salt and pepper for seasoning
Set oven temperature to 325 degrees. Combine the orange peel, garlic powder, coriander, cinnamon, salt, white pepper, cardamom and cayenne pepper together in a small bowl. Set aside a large roasting pan fitted with a rack. Remove the giblets from inside the chicken. Discard or reserve for another use. Rinse the bird inside and out with cold running water. Place on a working surface and pat dry with paper towels. Remove any visible fat with poultry shears. Very carefully loosen the skin from around the breast, thigh, leg and neck areas with a spoon without tearing the skin. Season the inside cavity with about 1/3 of the spice mixture. Rub the remaining mixture under the skin as evenly as possible. Lightly oil the outside with canola oil. Tuck the wings under the bird and tie the legs together loosely. Place in the roasting pan and roast for 15 minutes per pound or until the internal temperature registers 180F degrees. Use an instant read thermometer placed between the thigh and the body without touching bone. Remove the bird from the oven, transfer to a carving board, cover with aluminum foil and let rest for 20 minutes before carving. Pour the pan juices into a bowl. Let the juices settle. The fat will float to the top. Skim off the fat with a spoon or use a turkey baster to siphon the juices from the bottom of the bowl. Add enough chicken broth to measure 2 1/2 cups and pour into a saucepan. Add the orange juice and bring to a boil. Mix the flour and Madeira together to make a slurry. Slowly pour into the gravy while whisking. Cook over medium-high heat for 5-10 minutes stirring occasionally. Season to taste with salt and pepper.

Orange Chicken with Rice
1 tablespoon canola or olive oil
4 boneless, skinless chicken breasts; cut in 1/2 inch strips
Lemon pepper seasoning
1/4 cup low-fat or fat-free ranch salad dressing
1/2 cup orange juice
1/4 cup low-fat mayonnaise
2 tablespoons brown sugar
1 cup instant rice
1 green pepper; julienned
1 can (11 oz.) mandarin oranges; drained
In a large skillet that has a lid, heat oil over medium heat. Add chicken, cook and stir about 5 to 7 minutes. Sprinkle liberally with lemon pepper while cooking. In a medium bowl, combine mayonnaise, ranch dressing, orange juice, and brown sugar. Stir mixture into chicken, mix well. Add rice and green pepper; bring to a boil. Cook 5 minutes. Remove from heat and add mandarin oranges. Cover and let stand 5 minutes.
Zucchini Stuffed Chicken
2 tablespoons margarine
2 medium zucchini, shredded
3 slices of bread
1 egg white
1 teaspoon butter oil
1/2 cup shredded low fat Swiss cheese
4 skinless, boneless chicken breasts
1/4 teaspoon garlic salt
dash of pepper
dash of paprika
Melt margarine in a skillet and saute zucchini several minutes over medium-high heat. Tear the bread into pieces and add to zucchini, along with egg white, butter oil, and cheese. Stir well and remove from heat. Season chicken breasts with spices. Put chicken breasts in casserole sprayed with cooking spray. Spread stuffing over all four. Cover casserole and bake at 400F for approximately 1 hour or until chicken is tender. Or microwave for approximately 20 minutes at 60%, turning after 10 minutes.

Poached Chicken and Walnut Salad
2 whole chicken breasts (with skin on and bone in)
1 celery stalk
1 onion, sliced
6 peppercorns
chicken broth
3 tbsp. extra virgin olive oil
3 tbsp. balsamic vinegar
1/4 cup walnuts
mixed greens: watercress, arugula, red leaf lettuce, radicchio Place chicken breasts in pan or skillet. Add celery, onion and peppercorns. Add enough broth to cover chicken. Bring to a boil, then reduce heat to medium-low. Cook until just tender, about 20 minutes. Cool chicken and remove skin. Pull chicken off bone in strips.
In a saucepan, combine olive oil, vinegar and walnuts. Cook until somewhat thickened and liquid is reduced. Wash greens and tear into pieces. Place greens on four salad dishes, then arrange chicken on each plate of greens. Pour oil-vinegar mixture on top.

Grilled Caribbean Chicken Salad
4 boneless, skinless chicken breast halves
1/2 cup teriyaki marinade (store bought)
4 cups chopped iceberg lettuce
4 cups chopped green leaf lettuce
1 cup chopped red cabbage
5.5 oz. can pineapple chunks in juice, drained
tortilla chips
PICO DE GALLO:
2 medium tomatoes, diced
1/2 cup diced spanish onion
2 tsps. chopped fresh jalapeno pepper, seeded and de-ribbed
2 tsps. finely minced fresh cilantro
pinch of salt
Combine all ingredients in a small bowl. Cover and chill.
HONEY LIME DRESSING:
1/4 cup Grey Poupon dijon mustard
1/4 cup honey
1-1/2 Tbsps. sugar
1 Tbsp. sesame oil
1-1/2 Tbsp. apple cider vinegar
1-1/2 tsps. lime juice
Blend all the ingredients in a small bowl with an electric mixer, Cover and chill.
Marinate the chicken in the teriyaki for at least two hours. Use a resealable plastic bag. Put in fridge. Preheat outdoor or indoor grill. Grill the chicken for 4-5 mins. per side or until done. Toss the lettuces and cabbage together and divide into 2 large serving size salad bowls. Divide the pico de gallo and pour in equal portions over the two bowls of greens. Divide the pineapple and sprinkle on salads. Break tortilla chips into large chunks and sprinkle on salads. Slice the grilled chicken into thin strips and divide among bowls. Pour the dressing into two small bowls and serve with the salads.

Chicken Salad
Cut cold roast or boiled chicken in small dice, add celery cut fine, season with salt and pepper. Mix with French dressing and put aside for an hour or more. Just before serving stir in some mayonnaise slightly thinned with lemon juice or French dressing, arrange on lettuce leaves and cover with thick mayonnaise.

Garden chicken supreme
Serves 4
4 boneless, skinless chicken breasts
1 tablespoon herbes de Provence
2 cloves garlic
2 onions
2 courgettes
1 red, 1 green and 1 yellow pepper
6 tablespoons olive oil
400g can chopped tomatoes
salt and black pepper
2 tablespoons chopped fresh parsley
basil leaves (optional), for garnish

Rub the chicken breasts with the herbs. Peel and finely chop the garlic and onions. Wash all the vegetables. Chop the courgettes. Cut the peppers in half, remove the seeds and the white pith and cut into wide strips.

Heat 2 tablespoons of the oil in a large pan. Add the chicken and fry for 8 minutes. Turn over and fry for another 5 minutes. Remove from the pan and keep warm.



Add the remaining oil, onions, garlic, courgettes and peppers to the pan. Cook, stirring, for 10 minutes, or until the vegetables soften. Add the tomatoes (with the juice) and season.

Cover and simmer for 10 minutes. Stir in the parsley and put the chicken on top. Cover and simmer for 10 minutes, garnish with basil and serve.

Cook's tip: Removing skin from chicken reduces fat but if you leave the skin on, it will keep the meat even more moist.

Variation: Herbes de Provence give this dish its distinctive tase, but try using just rosemary or use your favourite herb.

Serving tip: Rice or couscous make a delicious accompaniment to this dish. Try wild rice for something exotic.

Quick lemon chicken
Serves 4
1 clove garlic
1 lemon
2 tablespoons plain flour
500g boneless, skinless chicken thighs
3 tablespoons olive oil
2.5cm piece root ginger
450ml chicken stock
1 teaspoon caster sugar
1 egg yolk
2 tablespoons chopped fresh parsley
salt and pepper

Peel and finely chop the garlic. Grate the rind and squeeze the juice from the lemon. Mix together the flour, lemon rind and garlic in a bowl. Cut the chicken into 5 cm pieces. Toss in the flour mixture until well coated. Cover and set aside for 10 minutes.
Heat the oil in a large pan or wok. Cook the chicken for 8-10 minutes, stirring occasionally, until golden.
Peel and grate the ginger. Stir into the pan with any remaining flour, the stock and sugar. Bring to the boil and cook for 5 minutes, or until the chicken is tender and the sauce is reduced.
Blend the egg yolk and lemon juice and add to the pan, stirring constantly, until the sauce thickens. Stir in the parsley and season. Serve.

Cook's tip: Fresh chicken stock gives a better flavour than cubes. It can be found in the chiller cabinet of the supermarket.

Variation: You can replace the chicken thighs with boneless breast or leg meat, or use lean pork or turkey fillets, if preferred.

Serving tip: Serve with boiled rice or egg noodles tossed with a little fresh parsley, and steamed broccoli or mange tout.