BEANS - Бобовые
---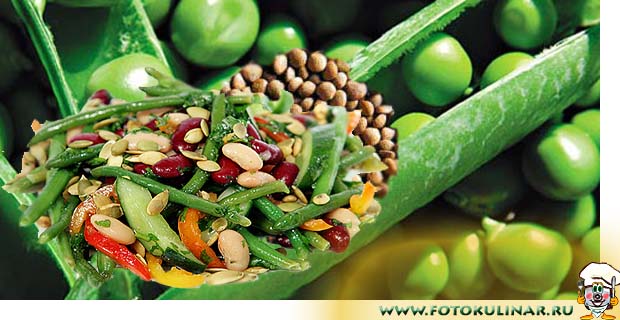 BEAN SOUP
3 slices bacon
1 tablespoon flour
2 cups baked or boiled beans
1 tablespoon butter
4 cups cold water
Salt, pepper, paprika
Cook bacon. Add to beans. Add cold water and cook until beans are soft, then rub through a strainer. Place on the fire and add a little more water, if needed, as the soup must not be too thick. Bind with the flour and butter. Cook two or three minutes. Season with salt, a dash of pepper, and paprika.
BLACK BEAN SOUP
1 cup black beans
2 tablespoons butter
l l/2 quarts water
2 tablespoons flour
1 onion
2 hard-cooked eggs
1 tablespoon fat for sauteing
l/2 teaspoon mustard
2 stalks celery
Pepper, salt, paprika
1 lemon
Soak the beans over night. Next morning, drain them and cover with the cold water. Add sliced onion, which has been browned in the fat, also stalks of celery broken into inch pieces. Simmer until beans are soft, adding more water from time to time. Press through a sieve, again bring to the boiling-point, and then add seasoning of mustard, pepper, salt, and paprika to taste. Bind with roux of butter and flour to prevent the soup from separating. Cut the eggs and lemon in thin slices, and add these to the strained soup just before serving.
SPLIT PEA OR LIMA BEAN PUREE
1 cup split peas or dried lima beans
2 tablespoons butter or other fat
2 quarts water
Salt and pepper
1 tablespoon flour
Celery salt
1 teaspoon onion-juice
Soak peas or beans all night, then put them over the fire with water and bring to a boil. Cook slowly, until soft. Rub through a sieve, heat, and thicken with roux of flour and fat. Season with salt, pepper, celery salt, and onion-juice. Stir or beat until smooth and serve with croutons.
Bean Sprout Salad
2 tablespoon Sesame seeds
1 pound Fresh bean sprouts thoroughly washed and drained
3 Garlic cloves, peeled and minced
2 md Scallions — trimmed & minced
1 - 1" cube ginger, peeled and minced
2 tablespoon Oriental sesame oil
1/3 cup Soy sauce
2 tablespoon Cider vinegar
1 tablespoon Mirin (sweet rice wine)
2 teaspoon Light brown sugar
1 teaspoon Spicy sesame oil
PREHEAT OVEN TO 300F. Toast the sesame seeds by spreading them over the bottom of a pie tin. Roast for 12-to-16 minutes, stirring often, until they are golden. The seeds can be toasted in advance and stored in an airtight container.
Place the bean sprouts in a large heatproof bowl and set it aside. In a medium-size skillet set over moderately low heat, stir-fry the garlic, scallions and ginger in the oil for 2 to 3 minutes, until they are limp. Add all the remaining ingredients, increase the heat to moderate, then boil the mixture, uncovered, for 1 minute to slightly reduce the liquid. Pour the boiling dressing over the bean sprouts, toss well, then cover the bowl and chill the salad for several hours. Toss again before serving.
Frijoles Charros
1 to 2 onions, minced
2 tablespoons lard
3 cups cooked pinto beans
4 to 6 slices bacon, minced
1 slice ham, diced (optional)
. cup chorizo or hot italian sausage
1 16-ounce can tomatoes, drained and chopped
6 serrano chiles, minced, or to taste
1 tablespoon comino (cumin)
salt to taste
Add onions and lard to pinto beans and cook over medium heat 5 minutes, stirring occasionally. in another skillet, fry bacon, ham and chorizo. Add to beans with tomatoes, chiles and spices. Heat thoroughly.